THE CORRS Home Atlantic (2006)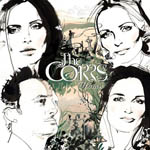 This is the Corrs 'return to their roots' album. 2004's 'Borrowed Heaven' was by all accounts disappointing, moving further into pop rock territory. 'Home' moves them back almost ten years: It's not exactly pure unadulterated folk and there's a lack of electric guitar, but this album is closer in spirit to their 1996 debut.
Conceived as a tribute to their late mother and based on her song collections, it is surprisingly (or not) accessible. The raw tunes, fiddles and pipes have been honed and preened for a café generation.
There are some fine orchestrations and arrangements and the trick pulled is to make traditional folk tunes sound quite contemporary.
Andrea always had that come-hither breathy vocal and here it is put to good effect, she even sings in Gaelic on a couple of songs.
There are a couple of jigs and reels to gladden the spirit including the live favourite 'Haste To The Wedding' but it is on the slower, more reflective ditties that the band excel. And there are a good few of those including the stirring 'Black Is The Colour' and 'Heart Like A Wheel'.
The only anomaly is the album's 'hit', the mandatory, radio-friendly 'Old Town' . Phil Lynott may never have envisioned this tune in the hands of renascent folkies but it works well.
The number of copies of 'Talk On Corners' in the bargain bins is perhaps a sad reflection of the music industry and a fickle interest in musical styles and trends. 'Home' may feel slightly insipid and sanitised to some, but should reinstate the band's profile and delight their hardcore following.
Irish Folk has seldom sounded so polished, or more persuasive, with each play.
****
Review by David Randall
Spancill Hill
© 2006 Atlantic/Rhino. All rights reserved.