ROGER CHAPMAN & THE RIFFBURGLARS
The Loft Tapes Vol.4 Mystic MYSCLT004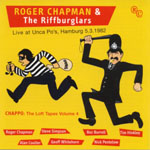 In his informative liner notes Pete Feenstra describes this 1982 Hamburg gig as 'a raucous live outing'. It certainly sounds like musicians having fun.
The Riffburglars occupied ground between the dissolution of Roger Chapman's band Streetwalkers (and before that Family) and the launch of his solo career.
Chappo had been gigging with keyboards player Tim Hinkley in 'Hinkley's Heroes' who featured a few classics from the 'Heroes' respective careers, and covers of rock and roll standards.
It is the latter that's very much on show here and, in front of an enthusiastic German audience, what results is a fantastic 'blow'.
Nick Pentelow's sax is a highlight and lends to the general R&B groove on such classics as 'Slow Down', 'Live The Life I Love' and 'Wang Dang Doodle'. Great guitar from Geoff Whitehorn throughout.
For Chappo fans, this is the fourth volume in a series of unearthed live tapes, and a handy companion to the earlier 2-CD Mystic collection.
***½
Review by David Randall


Wang Dang Doodle
© 2006 Mystic Records. All rights reserved.
Related>> Album review (Loft Tapes)
Related>> Album review (The Riffburglars 2-CD)