ROGER CHAPMAN & THE SHORTLIST The Loft Tapes
Mystic (2006)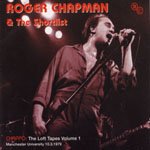 The former Family frontman issues these 3 official bootleg type archive albums, that have more appeal than to just Family fans.
The Loft Tapes Volume 1: Manchester University 10.3.1979 (MYSCLT001), features guitar wiz Clem Clemson, a saxophonist and 2 backing singers so a full sound of soulful 70s rock. ***
If anything Chapman is a little high in the mix compared to the rest of the band, but judging by crowd reaction he was certainly well received.
By The Loft Tapes Volume 2: Rostock 1983 (MYSCLT002) the band had 2 guitarists (1 switching to keys), with ex King Crimson bassist Boz Burrell on board. The extra fills from the saxophone work well, itís a slightly heavier band sound than before. Plenty of Chapman solo work, plus a few covers, including Bitches Brew. ***
The Loft Tapes Volume 3: Dingwalls 15.4.1996 (MYSCLT003), proving his retained popularity, is a more unplugged drum-free set. Different band, but the piano and sax work well. ***
Some great music, the only downer being the recording quality which is not great. Well annotated by GRTR!'s Pete Feenstra, and worth checking out if you can cope with Chapmanís constant vibrato.
Review by Joe Geesin


Moth To A Flame (from The Loft Tapes Vol.1)
© 2006 Mystic Records. All rights reserved.
Related>> Album review