QUECIA 'II ' (Deep End Records 501-196-6) ((2004)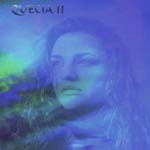 Second album from the band that won awards at the Classic Rock Society last year and has been growing in popularity in the process. Along with Mostly Autumn and Karnataka, three bands that show there is life in the UK music scene outside of indie and metal bands. Secret weapon in the band has to be the vocal talents of Kirsty McCarrick (and I assume her sister Hayley who adds backing vocals throughout the album), who has a very melodious voice - shades of Clannad's Marie Brennan.
Musically it's a step-up on the debut with the drums higher in the mix and the guitars turned-up only when needed. Highlights? 'Hide Away' romps along and could easily make the playlist of BBC Radio 2. Sounds a bit like the Corrs! 'The Rhythm' is a haunting ballad making good use of keyboards and tight rhythm section. 'Bird in a Cage' enters pop rock territory with a jaunty chorus. 'New Dress' sees Kirsty hitting the high notes and crashing guitars - a fine tune and possibly the best here.
Quecia have come on leaps and bounds since their debut, which is no mean feat as the debut had many highlights. For those who love the female fronted rock of All About Eve, Mostly Autumn and Karnataka this is a 'must have'.
****
Review by Jason Ritchie

The Rhythm
© 2004 Quecia. All rights reserved.
Related>> Album review
***** Out of this world | **** Pretty damn fine |
*** OK, approach with caution unless you are a fan |
** Instant bargain bin fodder | * Ugly. Just ugly