Growing up bald...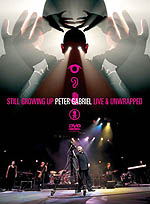 Peter Gabriel looks more like Sir Peter Hall (of National Theatre and RSC fame) these days but he is still no slouch when it comes to visual presentation.
'Growing Up On Tour - A Family Diary' was released earlier this year and followed Gabriel and his band on tour. This new DVD features some of the extra dates from that tour which gave Gabriel the opportunity to explore some of the songs that escaped the original setlist.
As you would expect this is well filmed with use of multi-screen, and great sound. And of course, the gigs were a visual treat too with the band performing on a circular stage against an effective lighting backdrop. Because of the editing, and costume continuity, it appears as one show.
The extras include a new video diary of this leg of the tour, rehearsal footage from 2002 and - from 2000 - Gabriel's appearance on the Jools Holland TV show.
With news afoot of a possible Genesis reunion, this DVD is a chance to re-evaluate Gabriel's solo work.
In truth, you can't really go wrong with songs the calibre of 'Red Rain', 'Games Without Frontiers' (where Gabriel pirouettes the stage with daughter Melanie on those bike things), 'Biko', 'Digging The Dirt' and 'Sledgehammer'.
The lesser-performed 'Burn You Up, Burn You Down' and 'The Tower That Ate People' come across - like a lot of Gabriel's music here - as funky and insistent, and whilst there is a plethora of bald heads in the band, including long-time collaborators Tony Levin on bass and David Rhodes on guitar, it's all very well done.
A must-have for fans who will want to complete their 'Growing Up' story.
****
Review by David Randall