Master of multimedia defines art of DVD...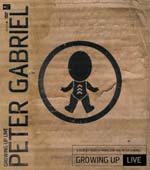 The prospect of a Peter Gabriel live tour is always met with excited anticipation, as the master of audio-visual presentation does not do, as he puts it, 'the travelling salesman' part of the music business very often. Completely drained by this aspect of the business following the 18 month 'Secret World' tour in 1993/94, Peter kept the world waiting for 9 years before embarking on the somewhat less taxing 3 month 'Growing Up' tour in 2003. Less taxing, yes, but in no way less ambitious as far as presentation goes.
Filmed over 2 nights in Milan, using the relatively new high definition film and no less than 26 cameras, no expense has been spared by Warner Vision in an effort to bring this concert 'film' to market. Directed by the multi-award winning Hamish Hamilton (U2, Robbie Williams, Madonna, Kylie etc), the concept of the "film" presentation (as opposed to a simple concert recording) was agreed with Peter before filming, with each track apparently given a different single word theme which was carried through the shooting and editing.
The action takes place on a 2-part circular stage, the outer part of which rotates and the inner part moves along a vertical axis, providing many varied perspectives throughout the 2 hour show. Old collaborators Tony Levin (King Crimson) on bass, David Rhodes on guitar, and Richard Evans on guitar, Mandolin and whistle are joined by Ged Lynch on drums and Rachael Z on keyboards. Peter's daughter Melanie, on backing vocals completes the line-up.
In a departure from Peter's past tours, where all stage crew were dressed in black to keep them as invisible as possible, the crew on this tour are all wearing bright orange boiler suits. Hamish decided to dress the camera crews in the same way, so at times it seems there are a lot of people in view on the stage but this in no way detracts from the main event.
Highlights include 'Downside Up' taken from OVO, the score for the Millennium Dome centrepiece show, which features Peter and Melanie walking around the underside of the centre stage (yes, they are upside down, or should that be downside up) and still singing. 'The Barry Williams Show' is Peter's take on how "we are what we watch" in the 21st century and features him dragging a camera round to follow his every movement – very surreal considering there are plenty of orange-clad folk already doing just that.
'Growing Up' sees Peter in playful mood as he rolls and bounces around the stage in a giant balloon known as a 'Zorb ball'. He apparently managed this on every night of the tour without any mishaps - unfortunately the same was not true of the part that involved him riding a bicycle around the stage. A few falls were encountered and even one occasion of bike (and Peter) going completely off the stage. No such disasters happened on the nights of recording fortunately.
Peter arriving on stage wearing a jacket made almost entirely of flashing lights accompanies the instantly recognisable opening bars of 'Sledgehammer'. The effect is quite stunning in the darkened arena. 'Signal To Noise' finishes with just the drummer in the centre as he gets engulfed by the descending central plinth to finish in silence.
The whole performance is available with Dolby 5:1, DTS 5:1, or Dolby Stereo soundtracks, and the 5:1 audio is nothing short of awesome. Peter has used his experience from re-mastering his back catalogue onto SACD earlier this year to good effect. If you haven't plunged into the 5:1 home cinema sound market yet, this DVD gives you the perfect reason to do so.
As Peter set the standard to be measured against for music video in 1986 with 'Sledgehammer' (still the most played video ever on MTV), he and Hamish have now set a new standard for live performance DVD that will be hard to match.
Full track listing:
Here Comes The Flood - Darkness - Red Rain - Secret World - Sky Blue - Downside Up - The Barry Williams Show - More Than This - Mercy Street - Digging In The Dirt - Growing Up - Animal Nation - Solsbury Hill - Sledgehammer - Signal To Noise - In Your Eyes Father, Son
****
Review by Ian Pollard
© 2003 All rights reserved.