MOTLEY CRUE 'Red White And Crue' Universal (2005)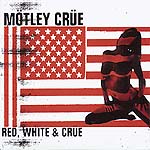 The long-awaited and much-anticipated reunion of the original Mötley Crüe is being bolstered by a world tour this summer, and the release of this compilation and a DVD.
For a band with more comings, goings and carry-ons than a Bangkok brothel, this compilation demonstrates that studio time over the past two decades has not been spent idly.
Simply put, 'Red White and Crue', should be in any self-respecting rocker's collection. For someone for whom the Crüe passed by (maybe I just got fed-up with eighties airbrushed rock) listening to this 'best of' was an unexpected delight.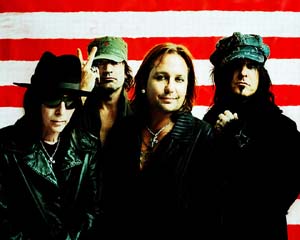 They may not be politically correct, but dammit, songs about girls, the devil and drugs really do sum up the wonderful world of rock n roll. And, more than anything, this is a riff-fest par excellence.
From the riotous 1981 debut, 'Too Fast For Love' we get opener 'Live Wire' and 'Piece Of Your Action' the rest of the CD plunders subsequent eighties albums 'Shout At the Devil', 'Girls,Girls Girls' and 'Dr. Feelgood'.
At the start of the nineties there was a bit of a hiatus after a temporary split and vocalist Vince Neil's departure. There are a few singles from the subsequent period, 'Primal Scream', the remixed 'Home Sweet Home', and 'Hooligan's Holiday' from 1994. Neil's return in 1997 and the album 'Generation Swine' is represented by the track 'Beauty' and 'Bitter Pill' originally surfaced as a 'new' track on the 1998 'best of' compilation.
Just one track survives from 2000's 'New Tattoo', 'Hell On High Heels', after drummer Tommy Lee had left to form Methods of Mayhem.
In retrospect, Mötley Crüe owed a lot to AC/DC, Aerosmith and Kiss in the overblown department and of the two recent tracks 'Sick Love Song' smacks a bit of Alice Cooper's 'Feed My Frankenstein'.
The bottom line is this: down a few beers, crank up the volume, this is classic rock at it's finest.
*****
Review by David Randall
Looks That Kill © 2005 Mötley Crüe/Universal Music International. All rights reserved.