MOTLEY CRUE 'If I Die Tomorrow' CD single
Universal 9871754(2005)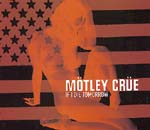 Mötley Crüe are back together with the original line up and a tour that will take in over 20 countries between now and the end of 2006.
"If I Die Tomorrow" was written by bassist Nikki Sixx and the band Simple Plan, with whom producer Bob Rock was working with prior to the sessions for the new tracks on Mötley Crüe's new greatest hits CD "Red, White & Crue".
Throughout their 25 year career the Crüe have changed their image and sound (not to mention logo) with every new CD, but at the same time they were always Crüe and always had the smell of excess , a chaotic mix of sex and drugs and a larger than life attitude.
This single fits in perfectly alongside their older material and is a musically powerful, modern sounding song with a great chorus and guitars. Singer Vince Neil sounds as good as ever, as does the drumming of Tommy Lee and as a whole the band sound like they haven't been apart for the last 6 years.
Mötley Crüe's world tour hits the UK in June and promises to be every bit as chaotic as you would expect. Welcome back!
****
Review by Nikk Gunns
If I Die Tomorrow
© 2005 Mötley Crüe/Universal Music International. All rights reserved.