MISSY HIGGINS 'The Sound Of White'
Reprise/Eleven (2005)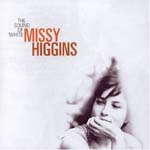 There are a few surprises with this album, not least the artist's name which could so easily be construed as a Cockney female rap artist. Missy Higgins is actually Australian, and connects musically with the likes of Sarah MacLachlan and Aimee Mann.
'The Sound Of White' is an extremely strong debut, with little excess fat. If there are some similarities to MacLachlan, Dido, Edie Brickell et al, the strength lies in the songs which are well structured and interesting. Production is by John Porter (The Smiths, Ryan Adams).
Another surprise is that Missy Higgins doesn't hide her Aussie origins and her unalloyed vocal delivery veers toward Aussie Cockney if there is such a thing. Thankfully, it isn't too intrusive. Elsewhere, Eleanor McEvoy in her more upbeat mode, and not least for her commitment to the native tongue, comes to mind ('Unbroken'). And behind the apparent simplicity of several tunes, there is also a sophistication, perhaps best displayed on 'The River' and here one of the standouts. Higgins should, therefore, command wide appeal.
As with many debuts, 'The Sound Of White' includes tracks that have been honed and sifted over the years and on the road, so opener 'All For Believing' originally received airplay back in 2001 after Higgins won a talent competition in her native homeland. 'Scar' achieved national success when released on an EP in August 2004 whilst 'The Special Two' first appeared on her debut EP back in 2003.
Already established down under, this year may bring further success on both sides of the Atlantic.
****
Review by David Randall
The River
© 2005 Reprise/Eleven. All rights reserved.