Metal road trip...crack out the beers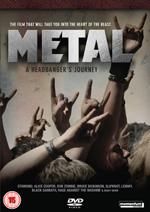 The fact that I fell asleep shortly before the end of the main feature, shouldn't be put down to boredom. I'd consumed rather too much wine.
Sam Dunn's 'journey' takes us from the cosy confines of Tony Iommi's sitting room to the more extreme elements of Norwegian metal.
Compared to the 'Louder Than Life' DVD (also reviewed by GRTR!) Dunn's travelogue seems more sincere and better put together.
It's more of a road trip where he manages to put the genre in its wider context without resorting either to repetition, hilarity or the use of second division interviewees.
He's picked out a handful of generally articulate raconteurs rather than the scattergun approach which is employed in the 'Louder' DVD.
There will inevitably be some gaping omissions in any project like this but any film that starts with Tony Iommi has my money. There is also some duplication in interviewees between the two productions, but Dee Snider takes a lesser role in Dunn's film which might suit some people.
Interviews with Slayer, Slipnot, Lamb of God and Arch Enemy bring the story into the Millennium.
If there are no real revelations, ('Louder' is better for the anecdotes) it is arguably the better watch.
Sam Dunn takes his subject seriously, approaches it from an anthropological base (he studied that at University) and is evidently awe-struck as he seeks out his heroes at Wacken Festival and in his encounters with Bruce Dickinson and Ronnie James Dio. So, Sam is an academic and he's a fan.
The film uses concert clips to enhance the commentary but they are really only incidental and don't expect any extended live footage.
The section on Norwegian death metal is perhaps the most disturbing, but Dunn covers it with respect, and one can only assume that short winter days and long nights have a lot to answer for in this region.
One glowing omission appears to be scant references to Metallica, arguably the genre's greatest-ever band. This becomes all the more unfathomable as 'Master Of Puppets' plays out in the closing minutes of the film.
The bonus features include an audio commentary and, on Disc 2, extended interviews, a Norwegian metal documentary when Dunn returned to face his critics, and a useful guide to the metal genre (although tricky to navigate).
'Louder Than Life' or 'Headbanger's Journey'? Whilst the metal fan will enjoy both, Dunn's production is really all you'll ever need and his studied but starstruck approach is a winner.
And probably best consumed with a few beers rather than a strong Argentinian wine.
*****
Review by David Randall

Related>> DVD Review