From Sabbath to shredders to studded wristbands...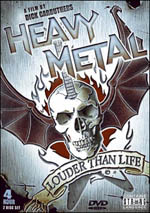 This two-DVD 4-hour set is a brave undertaking. Disc 1 traces the history of this enduring genre from Grand Funk Railroad to the present-day thrash merchants, the riffs and the raffs, the rebellion, the dubious religion.
In between clips we get a range of commentators from old stagers like Black Sabbath's Geezer Butler, to new kids on the block such as Alex Skolnick of Testament and Doc Wayne of God Forbid.
Whilst all have a view on things metal, some provide better insight than others. There is some attempt to analyse the meaning of metal and its effect on the masses. The DVD will, therefore, have a comfort-factor for fans who will identify with the views expressed about fan loyalty and the nature of their obsession.
Some may find the performance clips all too short (although many are familiar and the hardened metaller will know their origin). The film also revolves around a core set of interviewees and some of the genre's major movers and shakers are missing (for example, Ozzy, Zeppelin, Trivium to name but a few).
If you really want to sample the spirit of metal, (which has as much to do with the characters and a humourous undercurrent immortallised in 'Spinal Tap'), you'll need to access the 'Metal Tales' section. Among the highlights, Krusher's recounts early Black Sabbath whilst Ronnie James Dio impresses with his account of dealing with fans after the gig (in stark contrast to his days in Rainbow).
One nice feature is an on-screen icon which, when displayed, allows access to essential album and artist information and 'Metal Tales' which features the anecdotes omitted from the main narrative. The only snag is that, as a separate section that can be accessed, the artists interviewed aren't identified. Hardened metallers will recognise faces but no good for beginners.
If you get bored, you can always play spot the lookalike. Neil Murray, erstwhile Whitesnake bass player, looks remarkably like that crotchety long-haired guy on BBC's Top Gear, whilst Bill Price looks like he's about to sink fangs into white flesh.
I digress. We also get the filmmakers' commentary, with Dick Carruthers and Jim Parsons adding their own gloss to the story, at times sounding like an informed Smashy and Nicey. One of their aims is to encourage punters to re-visit classic metal albums or new bands. In that sense, the DVD is like a more luxurious copy of Metal Hammer.
A second DVD of extras is not exactly essential viewing but follows up some of the themes on Disc 1. We get a larger-than-life metal wannabe band from LA, confessions of a headbanger (who naturally wishes to remain anonymous), a metal timeline, and Dee Snider's personal view of metal.
This package is an entertaining watch, but I suggest it might be best viewed as an easily accessible primer. One that you should play to your children (or grandchildren) to show them what all the fuss is about. (But beware the parental guidance warning).
Most of all, the two-disc set shows that heavy metal in all its guises is still alive and kicking and for that, Tony Iommi (sadly conspicuous by his absence as an interviewee) has a lot to answer for.
****
Review by David Randall