Just witnessed your best live gig?..send us a review!

MELANIE C - Carling Academy, Liverpool
21 December 2003
For most people, having your leg in a splint for four months would have taken the edge off the year a bit. But Melanie C has come through it with dignity, and leaping around at this pre-Christmas bash you would never have known. In fact I reckon when the injury has healed she may even want to keep the splint on, having craftily incorporated it in her rather sexy dominatrix outfit. Anyway, what the hell, it's Christmas isn't it?
With Mel B off the radar, Emma gone all sexy without much substance, there is really only Victoria B to challenge Melanie C's chart credentials. But Melanie has the voice, the talent and, I think, the durability factor. She also has the ability to appeal to a much wider audience.
2003 has been a good year for the one-time Spice Girl, with the release of her album 'Reason', several chart singles, and a fair amount of media exposure including of course the fateful "games" when she sustained her injury. Perhaps a highlight was her appearance on BBC Radio 4's 'Woman's Hour' when presenter Jenni Murray, not one to normally effuse about her guests, was genuinely impressed with her live performance of 'Reason'.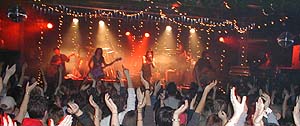 Judging by the tremendous response from the partisan Liverpool crowd, a lot more people are being turned on to Melanie C. Apparently the latest album has not sold as well as anticipated but the problem is that Melanie C is in transition, and it will probably take another album to completely bury her Spice Girl heritage and, in truth, the tweenie followers. Looking at Mel, dominatrix styling apart, you can tell she is a million miles from that "sporty" image and the trademark tracksuit.
In musical terms, she is also now some distance from the Spicey stuff. This gig was absolutely tremendous. Every track was a surefire winner and there were even some surprises with a very accurate rendition of The Darkness 'I Believe In A Thing Called Love' (why didn't they get the Christmas No.1?)
Particularly satisfying was the trilogy of tracks featured as bonuses on singles, a master touch indeed. These extra tracks are always well worth investigating, so we had the brilliant 'Love To You' , 'Like That'(from Here It Comes Again) and 'I Want You Back' (Goin' Down). A medley of tracks from her first solo album 'Northern Star' were well received whilst 'Go' comes over much heavier than on disc.
As we headed for the finale, there was no let up in pace with three more tracks off 'Reason' including the singles 'On The Horizon' and 'Melt' whilst guitarist Greg Hatwell played the Bryan Adams role for a great rendition of 'When You're Gone'. In fact all credit to her backing band who have done so well this year interpreting tracks which they never performed on album and making them their own. The presence of a female keyboard player and a bass player straight off a Manga cartoon is also interesting.
Having gone to this gig on a recommendation, there is really no need for the rocker to go in disguise. On this occasion, anyway, most of the audience was over 18. If you like good pop rock music, you'll like Melanie C. You may even find the splint sexy too.
Review: David Randall