MELANIE C 'Yeh Yeh Yeh' Virgin single VSCD1858(2003)

Released 10 November 2003

Melanie C's album 'Reason' shot into the Top 10 albums chart back in March and also spawned the Top 20 single 'Here It Comes Again'. The album, a natural successor to 'Northern Star', emphasised Melanie C's growing maturity as a performer/songwriter aided by a glittering roster of production talent headed up by Marius De Vries (Moulin Rouge,Madonna).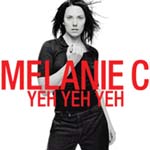 If the first single hinted at a pop rock sensibility, the second 'On The Horizon' was unashamedly straight pop. 'Yeh,Yeh,Yeh' on the other hand is one of two out and out rockers on the album. A great track when performed live, this might not be an obvious choice for a third single (album track 'Melt' was also a contender and will now appear on a double-A side in November due to Melanie C's recent injury in a game show) but it could take the Top 20 by storm putting some much needed rock back where it belongs. Rather strange then it should be Melanie C who carries the torch, but with her pop cred and rock chick leanings it all starts to make sense.
Bury your understandable ex-Spice Girl prejudice, 'Reason' is one of the best albums of 2003, Melanie C has a superb voice, and she rocks. Simple as that.
Website
Gig review
Album review
Yeh,Yeh,Yeh
© 2003 Virgin Records Ltd. All rights reserved.
****
Review by James Rutherford