MANNY CHARLTON 'Say The Word'
River Records RIVERCD028 (2005)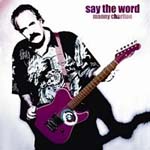 The original Nazareth guitarist, songwriter and producer has been busy since relocating to Texas, and has issued several CDs via his website www.mannycharlton.com.
This recent album is now reissued on River Records and comes with lyrics and some bonus tracks.
A far cry from Nazareth, the opening title track is an up-tempo acoustic blues number with some typically neat slide guitar. 'The Crooked Line' is more folky in a rock kinda way.
Most of these songs are about Manny's songwriting, which comes across very well. Some important messages and decent tunes. There's also a thoroughly enjoyable cover of Nazareth's 'This Month's Messiah'.
There's a mixture of elements here, including some country/western on 'Crushed By The Girl', but it's done very lightly so it won't scare the Nashville-ophobes.
Light but great throughout. Worth checking out, although the booklet is very light on information.
****
Review by Joe Geesin

My Father's Eyes
© 2004 River Records. All rights reserved.
Related>> Album review
Related>> Album review