MAGENTA 'Broken' 5-track CD single, F2 Music 200406S (2004)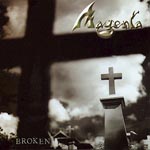 My colleague Jason Ritchie raved about this band's second album, released in March 2004, 'Seven'. I can see what all the fuss is about. Magenta is essentially prog genius Rob Reed and Christina on vocals and they prove that the spirit of the genre is alive and well, and very safe in their hands.
Rob wears his heart on his sleeve, to be more accurate on a previous album sleeve, when he openly mused: "This album is the product of a life of influence by my favourite bands. It is an attempt to recreate the magical flavours which they refuse to serve us today."
Simply, this is one of the best prog offerings I have heard this year and the single demonstrates that the band have all bases covered. On Lemminkainen's Lament, they prove that they have Celtic ambient rock sown up too - an essential prerequisite these days for any aspiring progsters.
This five track single is an excellent introduction to the band and will you have hooked by Track 2. The single, it has to be said, showcases the mellower side of the band and a fine vehicle for the versatile voice of Christina and the superb musicianship of Reed. There is even more of a niche now for female-fronted prog, as sadly Karnataka seem to have split.
Listeners to the albums 'Revolutions' and 'Seven' will pick up the references, from Tull through Hackett to Yes, but the single is developing Magenta as an original voice. Which is exactly as it should be. We can look forward to the forthcoming live album due in the autumn but, in the meantime, this is tremendous stuff.

*****
Review by David Randall

Call Me
© 2004 Magenta/F2 Music. All rights reserved.
Related>> Album review (Seven)
Related>> Album review (Another Time Another Place)
Related>> Artist website