MAGENTA 'Another Time Another Place '
(F2 Music) (2004)
MAGENTA 'I'm Alive ' CD single (F2 Music) (2004)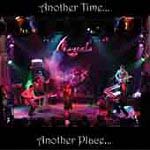 A double live CD from Magenta and one that mixes the new album 'Seven' with songs of their debut release, 'Revolutions'. Even though two songs clock in at over 20 minutes the band manage to keep your interest and those classic prog musical runs so beloved of Yes get a modern workout here.
Just sit back and enjoy the church organ intro piece 'Opus 3' (puts the pomp rock of Styx in the shade!) or 'Lust' with its waves of synths and guitar solos over which vocalist Christina easily rises above. Christina is very strong vocally and is the band's secret weapon as many bands, especially progressive ones, have highly talented musicians but often very average vocalists. The single 'Broken' is on here as well plus the wonderful 'Pride' that switches from piano passages to harmonies backed with crisp guitar solos.
For those who love prog rock and those who don't Magenta successfully straddle both worlds and will appeal to all music fans. Just listen to some of their music as I've already converted two work colleagues over to the band's music. Along with Mostly Autumn and IQ they provide some of the best classic progressive music with a modern twist around today.
Magenta play well crafted progressive rock that appeals to fans of classic prog and fans who enjoy newer bands like Mostly Autumn and the sadly defunct Karnataka.
****
The single I'm Alive features the ethereal vocals of Christina coupled with some neat keyboards and tight percussion. Also on here is the band's first demo, 'Cold' is a mellow number and reminds me of Clannad in parts. 'King of Skies', featuring some neat guitar breaks and a Led Zep stomp and 'Pride (Director's Cut)' round off the single. But you also get a video of 'Broken' but sadly my aging PC won't play this so I can't comment on it!
****
Reviews by Jason Ritchie
Related>> Album review