LEGS DIAMOND 'Diamonds Are Forever'
AOR Heaven 00019 (2005)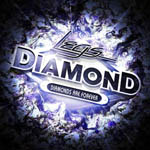 Sometimes, just sometimes, you get this urgent need for a bit of ROCK. I mean not any namby-pamby artsy-fartsy stuff but just piledriving geetar with riffs a plenty and choruses to sing a long to.
Legs Diamond deliver this and then some, on a brand new studio album produced by keyboards player (doubling on second guitar) Michael Prince, and featuring three of the original band who first formed in 1975.
Legs recall Led Zep in the riffing department ('Don't Turn Away'), AC/DC ('Good Time') and early Bon Jovi ('Let It Go') but they have rallying choruses and Prince's keyboards add spice. Although dubbed 'America's Deep Purple' there are only two tracks that have the Purple feel. 'King Of Speed' has that lowdown Hammonding, whilst the 'bonus' track 'Change' is actually one of the CD's standout tracks. Most of all, this album maintains a consistently high standard throughout.
The time is probably right now for a LD revival. They last toured the UK in December 1992, appeared at Firefest in May 2005, and these tunes would be killers live.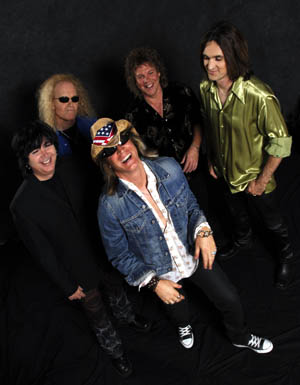 There's so much to like on this album, it deserves a wider audience. Just flick through the melodic 'Time Will Never Change', the urgent 'Trouble' (some great Roger Romeo guitar) and 'Loneliness' and you'll soon be hooked.
When they slow things down, too, as on 'This Time Round' Legs Diamond are superb, this particular track recalls a slightly more attitudinal Toto with those Lukather power chords and Prince's swirling synth lending gloss. Romeo lets rip with a fantastic wah solo and one hopes the live version will build on the speeded-up end section.
'Will You Remember' is another mid-tempo groove which is a good showcase for John Levesque (ex-Montrose, Wild Horses) whose vocals are excellent throughout. And the closing 'bonus' track 'For All We Know' is an unexpected instrumental and a wonderful way to close.
OK, it's all retro but - jeeze - it's so well done that it covers all cravings. Just bring me the ice pack, I need to lie down.
*****
Review by David Randall


Trouble
© 2005 AOR Heaven. All rights reserved.