IRON MAIDEN A Matter Of Life And Death Sanctuary/EMI (2006)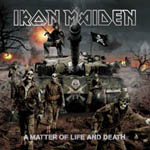 The Maiden are back, and prove themselves back on top form. The third album from this revamped line-up is probably their best set since the 80s.
Few metal bands can take a triple guitar and not sound cluttered. Few metal bands can move in a decidedly prog direction (for that is what it is) so assuredly.
Iron Maiden have done the punk influenced raw NWoBHM era, the classic British Metal era, the classy metal era (I include Seventh Son here, being a concept album with prog nods doesn't make it a prog metal album), and the second division metal era (largely encompassing but not exclusively limited to the Blaze albums). But this is so so much better. The band remain original and fresh.
Opener 'Different World' is top rate Maiden, no holds barred, while 'These Colours Don't Run' takes previous prog nods and Seventh Son-era polish and takes them a stage further. McBrain again proves himself a top Metal drummer.
Throughout the album, Dickinson proves why he is the voice of Maiden, and the guitar lines are intricate. 'Brighter Than A Thousand Suns' is heavy and crunchy too. 'The Pilgrim' has it's roots in Piece Of Mind. At a little over 5 minutes, it's also one of the shorter songs here (only 3 run at under 6 minutes).
On this album Adrian Smith reasserts himself as a brilliant songwriter, many of the songs here at least in part co-written by him and Harris. There's a rare Murray co-composition (the recent single) too, and a rare Dickinson / Harris collaboration.
The production is good, solid, but there's not the fire and edge of the likes of Powerslave; another sign of the prog direction?
Two additional limited editions will please fans and collectors - a double disc featuring a DVD 'Making Of' feature, the 'Reincarnation Of Benjamin Breeg' video and a couple of other extras, and a double picture disc LP in a lavish gatefold sleeve with innersleeves; the superior format for superior music!
Whenever you stopped listening to Maiden, if you haven't reacquainted yourself with them, do so with this album before it's too late.
****½
Review by Joe Geesin

Related>> Gig review
Related>> Single review
Related>> DVD Review
Related>> DVD Review (Bruce Dickinson)
---
| | |
| --- | --- |
| | Print this page in printer-friendly format |
| | Tell a friend about this page |