Maiden Man collected and rare ...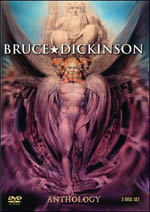 During the late 80s and throughout the 90s Maiden crooner Bruce had a very active solo career. As hard working off stage as he was energetic on it. And for once the term Anthology gives you everything. Literally Everything, and more .Over 3 discs and 6 hours it's a complete Bruce overdose.
Disc 1 kicks off with the Dive Dive Live! video. Although still in Maiden, the solo tour with guitarist Janick Gers airs much of the Tattooed Millionaire album with a few extras. The band kick off with Samson's 'Rising With The Angels' and they finish with 'Sin City', 'Bring Your Daughter To The Slaughter' and 'Black Night'.
The near perfect frontman, you get energy in excess and plenty of crowd and band interaction. The set also included the hit 'Tattooed Millionaire' and a cover of 'All The Young Dudes'. A good and fun set.
The disc is bolstered by Skunk Works live, a 60 minute live set from May/June 1996, showed how Bruce was moving on. Only 'Tattooed Millionaire' remained in the set, and no reliance on Maiden material at all. An artist in his own right.
Disc 2 is the Scream For Me Brazil live set, recorded during the Chemical Wedding tour. A heavier sound, but as popular as ever. Of interest because it saw Dickinson reunited with Maiden guitarist Adrian Smith. Some top metal all round but not the most essential set.
Disc 3 is probably of more interest to completists and collectors, starting off with 14 promo videos and then the Tyranny of Souls EPK. All of them, interesting viewing.
Then, a treat for collectors, is the now highly sought after Samson video Biceps Of Steel. It's accompanied by an interview with Bruce, who explains its background. Shame, because he makes a few factual inaccuracies and claims Samson as 'his' band - no mention of guitarist Paul Samson who basically discovered Dickinson. Shame on you Bruce! You may laugh at the video but the music is excellent.
Overall a splendid package, it really is everything Bruce you need. 3 DVDs and a booklet. WOW! But marks off for Bruce's disrespect for what is some of his best work.
****
Review by Joe Geesin
Related>> Album review
Related>> Album review (reissues)