Singer songwriter apes Ryan and Neil...
GUS BLACK 'Uncivilized Love' (Silverline)(2003)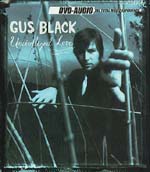 Gus Who? No, it wasn't a question. Or a challenge. Actually, I don't know too many people called Gus. Gus Dudgeon is the only musical connection I can recall. And I think maybe there was a gorilla called Gus. Anyway, I digress.
Gus is, by all accounts, a singer/songwriter out of LA. In the past he's supported the likes of Sheryl Crow, Verve Pipe (whoever they may be) and Three Fish - which three I don't know, but to save arguments let's say hake, haddock and cod. And this is, the DVD-A release of his 2002 third album.
And it starts promisingly with Cadillac Tears - an excellent 'talky' strummer, with a catchy beat and a weighty rhythm . As far as I can tell this was never a single but I would have thought it was the obvious choice. Gus sounds his own man on this American radio friendly track.
Thereafter, he sinks firmly into Ryan Adams' Gold country-rock territory. Nothing wrong with that, but the competition's fierce. There are typical shades of Neil Young, and even Donovan on occasions. The construction of When You Go Borrows heavily from Bowie's Space Oddity, the 5.1 surround sound making you wonder whether there's perhaps something wrong with your hearing.
Paranoid is, surprisingly, a cover of the Sabbath masterpiece. If you imagine how early Bowie might have sounded if he'd recorded it in the Space Oddity era then you're not far off the mark. Interesting interpretation, but it ain't gonna get your rocks off. It does however work really well in the context of the album.
When the band does kick in, it's in a muted sort of way with Gus' vocals and acoustic taking centre stage throughout.
The sound quality wasn't what I had perhaps hoped for (this was my first DVD-A experience). The 'effects' seem to amount to little more than fading the vocals up and down in the mix at a 'strategic' point. But maybe there's something wrong with my PC or (more likely) my ears need waxing.
As for extras, there's seven mainly sepia tinted grainy (home made?) vids of Gus and his band 'doing their thing' in the studio. Again pleasant enough, but hardly essential viewing or pushing the envelope of the video era.
So, pleasant enough - one for getting the hood down and cruising. But maybe not on a wet day in Hartlepool.
Cadillac Tears
© 2004 Gus Black/Silverline. All rights reserved.
***
Review by Pete Whalley