BEN ARTHUR 'Edible Darling'
(Bardic Records, Advance, Release date March 2004)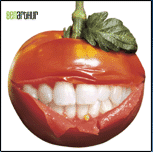 In a fairly crowded singer-songwriter genre, it is increasingly difficult to stand out. Ben Arthur has a better case than most for greater recognition, he's been plying his trade around the clubs for a decade or more. 'Edible Darling' (his third album) will appeal to those who've enjoyed the works of fellow over-the-ponders Ryan Adams and Gus Black, but Arthur adds his own distinctive twist to the genre. He has been aided in this enterprise by the production sheen of Mike Shipley (Shania Twain, Aerosmith).
Essentially electric and extrovert, the wordplay can be enjoyed of course, the album is at once accessible and memorable. We reviewed an advance promo late in 2003 and the finished album fulfils the promise of those early tracks and our prediction that Ben Arthur is an artist whose time has come.
This is an album that repays repeat listening and tracks like 'Mary Ann' and 'Sight Of Your Tears' will have you chattering away the choruses to yourself in those quiet moments in front of the bathroom mirror, in the shower, or getting ready for a night out. But Arthur can also be reflective and broody when he wants to be and there's a dark humour pervading songs like the title track and 'Keep Me Around.'
'There's nothing in my work that doesn't smack of some pretty grim, difficult stuff,' he says, 'Most of my songs are a marriage of contradictions: bleak and difficult sentiments lurking under an upbeat, catchy melody.' Altogether, this is an interesting and infectious album well worth seeking out when it is released in March.
****
Review by David Randall
Website
Feature and Video
10 Questions
---
Audio streams (Real Player)
End of the Day
Mary Ann
Tonight
Audio streams (Windows Media)
End of the Day
Mary Ann
Tonight
© 2004 Ben Arthur/Bardic Records. All rights reserved.