Hot air and Hannibal...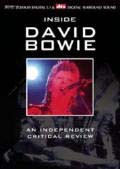 I find this 'Inside' series of DVDs equally enjoyable and frustrating. If you're 'into' an artist sufficiently to want to spend your pocket money on this sort of product then you're likely to already know a thing or two about the subject matter. So what you're looking for is rare footage, insight and interesting facts. And as with most of this series you get some, but only some, of all these things.
You get a reasonable amount of footage - very little of which is 'new' but nevertheless, Old Grey Whistle Test and other BBC footage, some of Mick Rock's early 'videos' and other live footage is always welcome viewing. But it's rarely on the screen for more than a few seconds at a time.
We also get extensive insight from Trevor Bolder and Woody Woodmansey. Woody is a typically forthright Yorkshireman who tells it like it is (or was) and their take on Rick Wakeman's contribution to Hunky Dory and how he almost became a Spider (if Yes hadn't come up with an offer of more money) is fascinating.
Elsewhere we get plenty of 'expert' opinion, most of it about insightful as a bad case of athlete's foot. Malcolm Dome (lovely guy, hugely knowledgeable and enthusiastic) still looks better suited to a Hannibal Lector remake and John McKenzie claims it was all 'very exciting' but looks like he wouldn't get excited if he found a small nuclear devise in his back yard.
And as for the rest, there's a lot of hot air passing through ring pieces. Does anyone care what the chord sequences were? And do we want to be told how Life On Mars was written at the height of Ziggy mania (which it wasn't) or how Rick Wakeman went on to be a founder member of Yes (funny that, history shows he joined for Fragile, their 4th album).
So what you get is snippets of rare footage, some interesting insight and facts from people who were there at the time, and a fair amount of hot air from everyone else. For example, what value do navel gazing insights such as how 'Changes' 'took you to another place' add?
This could be a really good series if it featured less insight from the likes of you and I (or any other guy down at the pub).
***
Review by Pete Whalley
Related>> Review (1972-1974)