Live celebration of pop classic...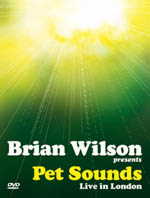 Back in 1966, the Beach Boys' "Man In The Studio" Brian Wilson wrote what would be one of band's most acclaimed releases. In fact, if it wasn't for the inclusion of the band's hit cover of "Sloop John B", it was nearly planned as a solo album.
But sessions over, the album was released and sold incredibly well. Since its release it's been regularly the best pop album of all time in various serious music magazines; a poke in the eye for the US record label who also released a Beach Boys compilation to coincide with Pet Sounds, not considering the album that commercial.
2002 and Brian Wilson, with his own 10 piece band, played six dates at London's Royal Festival Hall, playing the album in its entirety.
Standing ovation, and that's for Wilson walking on stage. Looking less fried than he did at the Queen's concert, he gives his introduction, and makes comments about each song throughout the concert.
The voice holds well on the mid range, not quite making the top ranges like he used to, but that's understandable. And Wilson is still not fully up to making the most of the keyboard he sits behind.
The music is excellent, if a little 'easy' at times, perhaps over reliant on the flute, but quite rightly the crowd lap up every second.
"Wouldn't It Be Nice" and "Sloop John B" definite highlights, as well as backing vocalist Taylor Mills.
The band are introduced before closing with "Good Vibrations", not on the album but recorded as part of the original Pet Sounds sessions.
DVD bonuses include a 40 minute 'making of the original album' documentary, featuring interviews with band members and lyricist Tony Asher.
One for fans only but excellent all the same.
****
Review by Joe Geesin
Related>>Album review