Three young European blues rockers on the rise...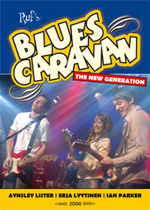 The lead in to the bonus section of this highly recommended DVD makes reference to Jeff Beck, John Mayall and Peter Green as precursors to this Blues Caravan 2006. Not so. If anything this project comes closer to the late 80's Alligator 'Showdown' album with Cray, Copeland and Collins.
But in truth Blues Caravan 2006 is a fresh project unlike either of the two above or indeed the 2005 all female Blues Caravan, in respect of the fact that label boss Thomas Ruf sent these three leading European blues talents to record in both Mississippi and Memphis, and the results are far superior to any of the others.
That said, this DVD recorded live at the Underground in Koln, Germany turns out to be a triumph over a number of small unforeseen obstacles. Contrary to the PR, the crowd is anything but excited until three quarters of the way through a three hour set. And the on stage interpersonal frisson does take quite a while to cut through.
The upside is that while the individual performances are fine, it is when the three frontline players come together that they finally take it up to a different level and really engage the strangely muted crowd.
The project opens with an acoustic set of which Ian Parker's country flavoured 'Time Bears Witness' is imbued with a real southern feel. The latter's solo set equally impresses most notably with the funky groove of 'The Moral Man', and the David Crosby influenced 'By Your Side', which benefits from keyboard player Morg Morgan's bv's.
For her part, Erja Lyytinen proves to be an excellent slide playing dobro guitarist and electric guitarist with her own tone, if not the best songwriter in the world.
The triumvirate deliver a passable off stage mid audience, a cappella version of 'Rain In Your Life', which acts as link to Aynsley and his band who cut to the chase with some very derivative, but effective ZZ Top style rocking on 'Everything You Need' and a guitar free for all on a cover of Joe South's 'Hush'.
The inevitable jammed out end section takes in blues, soul, good rocking and even rap, ranging from a three guitar feast on Aynsley's '1010°' and some similar swagger on 'All The Time' through to Erja's poignant 'The Last Love Song'.
The closing title track is the perfect conclusion to a gig that impressively grows in stature, as these three excellent young talents demonstrate that they are anything but blues retreads.
****
Review by Pete Feenstra