AYNSLEY LISTER,ERJA LYYTINEN, IAN PARKER
Pilgrimage Ruf Records RUF1112(2005)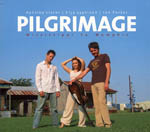 Touring the first quarter of 2006 under the banner of 'The Blues Carvan: The New Generation', this magnificent contemporary triumvirate kick fresh life into a time worn blues genre.
'Pilgirmage' owes much of its conception to the 80's meeting of Robert Cray, Albert Collins and Johnny Copeland, but I'll stick my neck out and say that this album surpasses even that ground breaking effort.
The real triumph's here are the songs, the inspirational performances and the fact that all three artists bring their own sparkling talents to bear on a fresh body of work.
Recorded in no time at all in both Mississippi and Memphis, the album drips raw emotion, cutting edge frisson, and is underpinned by an energetic dynamic.
Aynsley's '1010 degrees ' opens the album with a big toned guitar frenzy with Aynsley and Erja taking the first two verses, and for the rest there's a superb balance of rocking blues, and down home acoustic efforts.
Erja Lyytinen is a talented young lady from Finland who adds some sumptuous slide parts, while Aynsley fulfills his considerable potential throughout. Ian Parker meanwhile, adds characteristic grit and passion particularly on the broadsweep of another album highlight 'Heal Me Love'. Erja even delivers an unlikely rap in a broad Finnish accent on 'Blues Caravan' but pulls the whole thing off with a lovely belated vocal break. She similarly impresses in a duet with Ian on the ballad 'Last Love Song'.
The seeming inevitable shuffle is also turned into a celebration of the three guitarist's considerable talents with the very Albert Collins/James Solberg sounding 'Too Much To Hide' which is injected with with some ascerbic guitar licks.
Above all there's enough diversity in the material and enough highlights to satisfy all three musican's fans.
Quite simply this Blues Caravan is arguably the most exciting blues related project to appear either side of the Atlantic in the last two decades. The album deserves your unresrved purchase, and the forthcomng tour could well be one of the events of the year.
****
Review by Pete Feenstra

1010
© 2005 Ruf Records. All rights reserved.