BLUE OYSTER CULT A Long Day's Night
Castle CMFVD1347 (2006)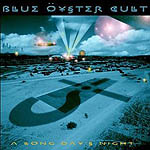 Well, in the eighties we bemoaned the fact we'd have to re-buy our music collection to reflect the new CD format.
Now, Sanctuary have released several CDs which carry an extra DVD featuring live footage of a previously released title.
'A Long Day's Night' originally came out in September 2002 to a generally warm reception. Blue Oyster Cult were always at their best when on a stage and whilst the Millennium incarnation might not be the classic 'On Your Feet...Or On Your Knees' line-up, it's as near as dammit.
With hair shorter, and girths wider, BOC give a good account. Unsurprisingly this is essentially a 'best of', with the then-touring band featuring new members Danny Miranda on bass and Bobby Rondinelli (ex-Rainbow, Black Sabbath) on drums.
Buck Dharma's contributions in terms of vocals and songwriting - but not least his marvellous guitar work - deserve special mention, highlighted as ever on the amazing 'Buck's Boogie' but also on more recent tracks 'Dance On Stilts' and 'Harvest Moon'.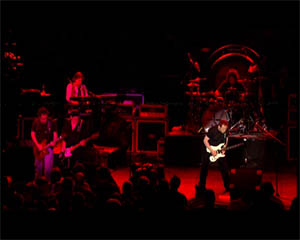 The two surprise inclusions are a new track, 'Astronomy' (not on the DVD), and 'Perfect Water' from one of the band's least visited albums 'Club Ninja'. Elsewhere, 'Lips In The Hills' and 'Godzilla' highlight the band's trademark heavy guitar work (Buck Dharma, Allen Lanier) and heavyweight drumming. And 'Don't Fear The Reaper' sounds as good as it ever did.
The DVD features 7 tracks not included on the original CD release including 'E.T.I.', 'Harvester Of Eyes', 'Flaming Telepaths', 'Last Days Of May', 'M.E.262', 'Dominance And Submission and 'The Red And The Black'. Altogether it's a great show, the band and audience enjoying themselves, and it reminds us that BOC are masters of melodic hard rock.
This budget-priced release represents excellent value and is well worth it for the DVD alone which runs to 2 hours playing time. But it will frustrate fans who already have a copy of the original CD release. No doubt in increasingly harder times, Sanctuary will be rubbing their hands at another way to milk the cash cow.
*****
Review by David Randall