ALLMAN BROTHERS BAND
Eat A Peach (Deluxe Edition) Mercury 0602498778494 (2006)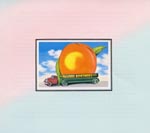 'Eat A Peach' was tinged with poignancy when it first appeared as a 2-LP set in February 1972. Only months before, band mainman Duane Allman was killed in a motorcycle accident and several tracks were effectively his final recordings.
The Allmans with their infectious blend of free-wheeling blues rock were riding out their early success in 1972, on the back of the legendary 'At Fillmore East' album. More than anything, this album had captured a band in ascendancy and in their best environment.
Tracks on the original 'Eat A Peach' album showcase a band in transition after trauma and the Duane Allman tracks ('Stand Back', 'Blue Sky' and a short acoustic instrumental 'Little Martha') are dropped in seamlessly. Dickey Betts stamped his own mark, especially on the attractive instrumental 'Les Brers In A Minor' which has echoes of contemporaries Santana.
Often compared with Grateful Dead, the Allmans were a great jamming band, not averse to whole-side album workouts in the days of vinyl. Of the Fillmore East live tracks, the epic 33-minute 'Mountain Jam' (originally included on two sides of vinyl as Disc 2) shows the band on top form and propelled by a pneumatic Berry Oakley on bass and - unusually - two drummers: Jai Johanny Johanson and Butch Trucks.
For some, 'Mountain Jam' will be a tad meanderous and out-stay its welcome but if you can lose yourself in this music - as the band obviously did - you will be rewarded.
Two blues covers 'One Way Out' and 'Trouble No More' allow Duane Allman and Betts to stretch out and spar, the former excelling with the slide that so lifted Clapton's 'Layla'.
This deluxe edition is bolstered by previously unreleased material from the 'final' Fillmore East concert on June 27 1971. 7 of the 9 tracks are never-before-heard, although all tracks duplicate the original live album release.
There is once again some stellar playing, including an excellent fiery 'Hot Lanta' and the jazzy 'In Memory of Elizabeth Reed'. The highlight for many will be, once again, the 20-minute 'Whipping Post' - a quite wonderful wig-out with Greg Allman's organ fills punctuating his brother and Betts' fluid guitar work.
Almost twelve months after Duane Allman's sad demise, and after 'Eat A Peach' had made it to Top 10, the band succumbed again to tragedy when Berry Oakley (whose bass figures add so much to the album) perished in yet another motorcycle accident. The band went on, but arguably 'Eat A Peach' is their finest hour on disc.
This is an excellent, well-presented, and much deserved package. If you have never owned an Allman Brothers album, wish to explore further than the famed 'Jessica' (the theme for BBC TV's 'Top Gear'), or - like me - you divested your double live album years ago: 'Eat A Peach' (Deluxe Edition) is a good enough place to start, or to re-kindle.
*****
Review by David Randall