BLUE AEROPLANES Altitude EMI (2006)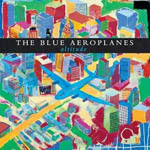 After the successful re-release of the excellent Swagger chief protagonist and poet Gerard Langley has pulled together and enhanced recordings he has made with various accomplices over the last 5 years and released them as a 'new' Blue Aeroplanes album.
Jose Marino tactics have been employed using squad rotation bringing in the best players for each number. But fairly constant throughout are John Langley on drums, guitarist Rodney Allen, and Angelo Brushini. Elsewhere, strings come courtesy of John Mattias (Radiohead's The Bends) and ex-Strangelovers Julian Poole and Joe Allen.
The constant features throughout are Langley's poetry delivered in his half spoken and soothing style and an overburdening retro feel from a time when the Army & Navy Store was the gentlemen's outfitter of choice and everyone called each other 'man'.
The album opens with Bristol Byzantine / Raise The Roof High - a big, brooding, fat riff, Floyd-esque guitar lines and a hippy-trippy chorus sounding like a 70's acid induced jam. Tree Full Of Starlings has a Dylan / folk feel with a melancholy violin and Surreal Thing has an almost Bolan-esue chorus.
Hexanal glides across the senses and there's some wonderful guitar work on Up In A Down World. Multinational serves up more gentle folk and subtle lead guitar lines. Beautiful Is (As Beautiful Does) plunders My Sweet Lord and is indeed beautiful.
While perhaps not living up to the dizzy heights of Swagger, this is nevertheless a creditable collection. It's like you've taken a joint and passed through a time portal back to the seventies.
***½
Review by Pete Whalley
***** Out of this world | **** Pretty damn fine |
*** OK, approach with caution unless you are a fan |
** Instant bargain bin fodder | * Ugly. Just ugly
get ready to rock is a division of hotdigitsnewmedia group
Why should I buy this CD?
If you're an Aeroplanes fan, or simply fancy a 'trip' back to when peace and love all that mattered.
Burn baby burn
Surreal Thing, Up In A Down World, Beautiful Is (As Beautiful Does)