THE BLUE AEROPLANES 'Swagger Deluxe' EMI(2005)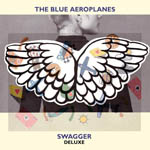 Swagger Deluxe is a re-release of The Blue Aeroplanes' 1990 Gil Norton produced Swagger album. Deluxe signifies that it's an expanded edition including a 14 track CD of B-side, demos, live and previously unreleased material.
Before hearing Swagger Deluxe I can't say I knew much about The Blue Aeroplanes. Perhaps a vague awareness of their passing existence, and maybe a vague recognition of the album artwork. But other than that - zilch. The accompanying Press Release acclaims The Blue Aeroplanes as 'one of the most inspiring, individual and influential bands of the last two decades'. Frankly, I was sceptical.
Truth is they sort of fell between several camps at the time - not quite indie enough to be indie, not quite pop enough to be pop and not rock enough to be rock. They were a fusion of guitar pop/rock and Gerrard Langley's spoken word poetry. Live they performed with a four-guitar line-up, backing tapes, dancers and slide shows. To fans, they were Gods and Swagger is widely regarded as one of their highlights.
Even fifteen years on, and hearing it for the first time Swagger is good. Bloody good. The guitar playing of Angelo Bruschini, Rodney Allen and Alex Lee reminds of a plethora of great guitarists / bands - Jacket Hangs is reminiscent of Alice Cooper's Eighteen and Picture Framed, of Welcome To My Nightmare. World View Blue has flourishes of REM (Stripe guests on What Is It) as do many of the backing vocals.
There are shades of Floyd and Dire Straits - most notably in Langley's monotone delivery. … And Stones is a real stand-out five and a half minutes of blistering guitar work and bringing a wide variety of artists to mind - Floyd, The Happy Mondays and Stone Roses, The Alan Parsons Project and even the Spice Girls! Your Ages echoes George Harrison's My Sweet Lord.
That's not to say Swagger is derivative - The Blues Aeroplanes take all these ingredients and serve up a veritable banquet of an album. It's unmistakably British, it's remarkably classy and it's timeless in the way of say, Pink Floyd.
As for the bonus disc, well it doesn't measure up to Swagger. Bonus discs seldom do. But for fans it's a veritable treasure chest - a 'hurdy-gurdy' version of Love Comes Around, an original demo of What Is It (with Michael Stripe further up in the mix), unreleased material (s.t.r.a.n.g.e.) and crowd-pleasers such as Razorwalk and 88 Out. Plus a bagful of b-sides.
I came to Swagger expecting to be unimpressed. I couldn't have been more wrong.
****½
Review by Pete Whalley