BIRD 'The Insides' Ice Cream Records IC05CD (2004)

Released towards the end of 2004, this CD at once becomes intriguing when you appreciate that (a) Bird is Janie Price from London (b) The album was written in Iceland (c) The producer is Icelandic and has invented a musical coat-hanger and (d) Bird plays a mean cello.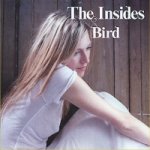 The lack of mid-winter daylight in Iceland can't have been a barrier: these ditties are in the main optimistic and upbeat. If Bird treads familiar girlie singer songwriter territory, all acoustic guitars and multi-layered harmonies, it is at least tempered with memorable tunes and the string orchestration adds a USP. How this translates to the live arena is another thing.
However, with live dates in Europe and a growing following in Spain, it seems our foreign cousins have already woken up to Bird. Obvious reference points for this dawn chorus are Dido and Rickie Lee Jones, with whom she has been compared, and there's even a touch of The Corrs on 'Rewind' (a la 'Forgiven, Not Forgotten'). Other standout tracks include 'We Care', 'Landslide' and the delightful 'Runaway' (not the Corrs version). If there is one criticism it's that this debut is a tad short, clocking in at barely 40 minutes and the album does not sustain its opening promise with the last two tracks the least replayable.
Jokes about whether Bird will suc-ceed are to be avoided, but this is a hopeful debut.
***½
Review by David Randall

Runaway
© 2005 Ice Cream Records. All rights reserved.