GRTR's Ian Pollard first visit to Sweden Rock was back in 2002 and he's been a regular visitor ever since. He has witnessed first hand the growth of one of the main festival events in the rock calendar. He braved the vagaries of the Swedish summer to report on four days of beer and bands...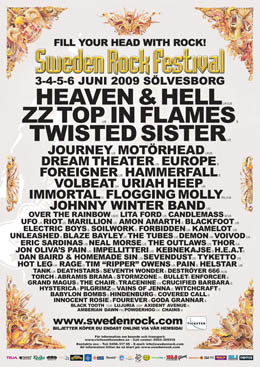 June has arrived, and it is time for the annual pilgrimage to southern Sweden, paying (lots of) good money for the privilege of spending 5 nights in a field with few home comforts. The promise of 4 days full of live rock music more than outweighs the drawbacks though.

After crossing the impressive Oresund bridge that links Copenhagen with Sweden (and it needs to be impressive, as current exchange rates mean the toll is £35 each way - ouch!), a 90 minute drive brings us to the piece of grass that will be home for the next 5 days. Tents are erected quickly (had a lot of practice at this), and the bar is located even quicker (had even more practice at this).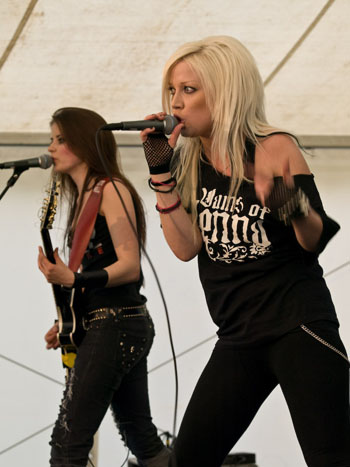 Photo by Ian Pollard. Photo Gallery

Thirst quenching is accompanied by all girl Swedish band, Vision, performing in the tent adjacent to the bar, who provide an entertaining set of 80's hard rock influenced material - with a slight punk feel in places. They could be one to watch for the future. The beer, combined with a long day's travelling, takes its toll. A good night's sleep is required, as 4 long days lie ahead…

The first day of the festival dawns, and rain falls! The weather forecast promises more of the wet stuff over the next 3 days - so the tents should get a good wash. In 7 previous years of visiting this festival, we have hardly seen any rain at all, so the law of averages had to impose its authority at some point, and this appears to be the year for payback. Waterproofs are packed into day sacks and away we go. The Swedish Air Force sends a couple of Saab Griffin interceptors over to welcome everyone to the festival, and we are underway.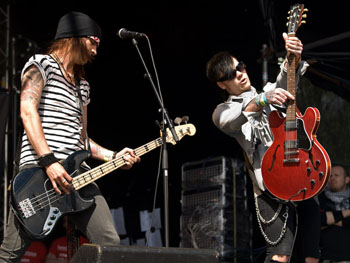 Photo by Ian Pollard. Photo Gallery
First use of the Zeppelin stage (smallest of the 4 main stages) falls to Innocent Rosie, a young Swedish outfit clearly influenced by the US West Coast metal scene of the 80's. They have already built a solid live following and debut album 'Bad Habit Romance' was released earlier this year. Well worth checking out if Crue style sleaze-metal is your thing, and they had enough talent to keep those of us not into that style interested as well. A good start to the day, but the rain returned shortly after.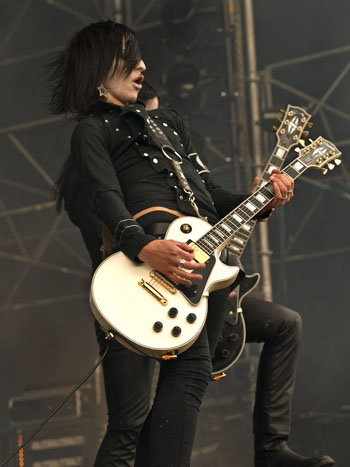 Photo by Ian Pollard. Photo Gallery
Stockholm's Deathstars get first use of the Sweden stage (only 2 main stages are in use on the opening day), bringing their own brand of industrial glam metal with them. Very Gothic in appearance, their music is best described as similar to Rammstein, but with obvious influences from 80's Goth masters such as The Mission. Lots of catchy hooks and a vibrant stage presence ensure a large enthusiastic crowd stays put throughout the intermittent showers.

The Gibson tent stage sees a large crowd assemble next - partly due to the rain, but I suspect mostly due to the arrival of 5 warrior maidens in the form of Hysterica. The feminine equivalent of Manowar has adopted somewhat less than delicate stage names… Anni De Vil, Bitchie, Rockzilla, SatAnica and Hell'n, and their music follows in the same vein. I split the set time between them and Torch on the Zeppelin stage - one of Sweden's pioneering metal bands in the eighties that reformed in 2005. Neither band really grabbed my attention though.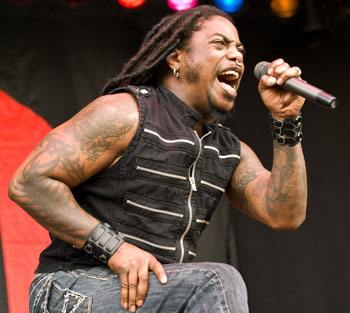 Photo by Ian Pollard. Photo Gallery
Sevendust now break the run of Swedish acts, with the US band bringing a high octane set of alternative metal to the party. Not really my scene, but you can't fault them for effort - especially frontman Lajon Witherspoon. If you like the alternative genre (e.g. Disturbed), then this band are well worth a look.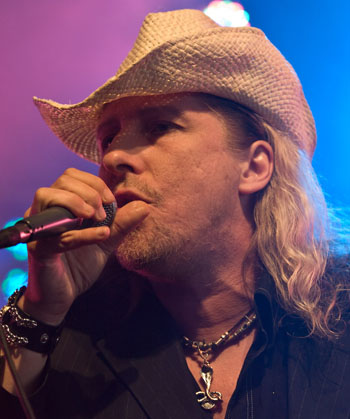 Photo by Ian Pollard. Photo Gallery
Next, it is back to the tent stage for a late addition to the line up - Covered Call. This band is fronted by Thomas Vikstrom, and you never know what to expect from the ex-Candlemass man - he really has done it all in his career. One thing is for sure though… he can sing! What we get is classic AOR that is right up there with the best, and had me searching for their debut album 'Money Never Sleeps' as soon as the set had finished. Highlight of the day so far.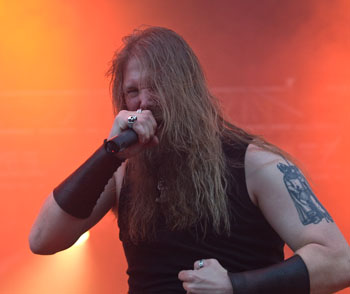 Photo by Ian Pollard. Photo Gallery
The first pyrotechnics of the festival herald the arrival of Viking death-metal band Amon Amarth. Their 7th album, 'Twilight of the Thunder God' achieved some chart success in Sweden, Germany, and the US, and they are renowned for their spectacular live shows. Johan Hegg and his band do not disappoint on this occasion for their fans - not for the faint-hearted!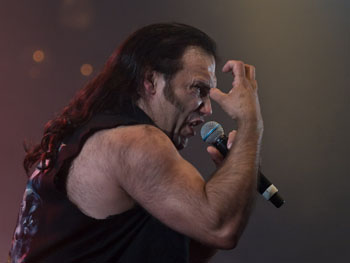 Photo by Ian Pollard. Photo Gallery
Ex Wolfsbane and Iron Maiden frontman Blaze Bayley is up next, only marginally reducing the intensity following the Viking invasion. With a selection of songs from his former bands and his own solo career, Blaze can still compete with the best on stage. Highlight of the set is undoubtedly "The Clansman" from his Maiden era, although others like "The Tenth Dimension" are also well performed and received.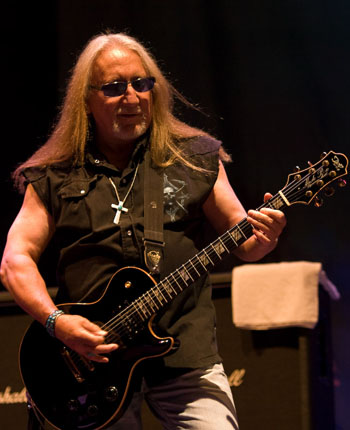 Photo by Ian Pollard. Photo Gallery
The headline act of the day are Uriah Heep, and unfortunately the sound crew got it wrong… they could hardly be heard from back of the sound stage. The band themselves are in great form, performing their new album 'Wake The Sleeper' in it's entirety. This would normally be a disappointment from a band with nearly 40 years worth of back catalogue to choose from, but this album is so good from start to finish, every song fits well alongside such classics as "Gypsy", "July Morning", and "Stealin'".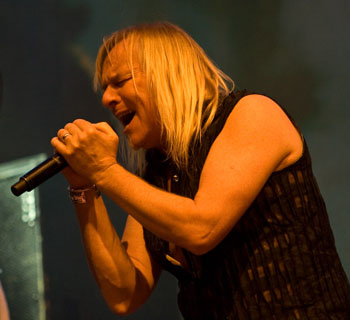 Photo by Ian Pollard. Photo Gallery
The highlights of the set are "What Kind of God" and the ever present encore of "Lady In Black". If only it had been a bit louder, it would have been perfect, but it was still a great way to finish the day before returning to a slightly damp and cold tent.
Review and photos by Ian Pollard
© 2009 Ian Pollard/GRTR! All rights reserved.