GRTR! reviewers are nothing if not intrepid. Moose kebab, beer for breakfast, sleep under the stars - this is the stuff of life. Ian Pollard managed to make the press conferences too. 10/10 awarded for stamina, 5/10 for the moose nosh...
Another year on, and weíre back again in Southern Sweden (Solvesborg) for more live music than you can shake a moose kebab at (more about them later)! Some 50+ bands scheduled to appear across the 4 stages, plus another 19 cover, tribute, and local bands in the 'RockKlassikerTaltet' (that means big tent playing classic rock). With all genres and styles of rock represented, there is plenty for everyone here.
Wednesday is spent travelling (leaving home at 1am to get to Stansted for a 7am flight to Malmo), setting up camp, buying supplies (beer), testing quality of purchased supplies and enjoying a salmon & moose barbecue provided by some of our Sweden friends who we met at previous festivals. This being our 4th visit to the festival, we have refined the methods of transport each year, and this time decided to hire a car at Malmo airport and drive the 140Km to the festival site. This had the additional benefit of making travelling into the local town for supplies much easier.
Now, sleeping in a tent on a campsite shared with 15,000 other rock fans equipped with various ghetto blasters (and even more various styles of music) is not always going to be the easiest of tasks.
However, after being awake for around 35 hours and with a belly-full of moose, beer, and Sweden Vodka...no problem!
Festival day 1, Thursday arrives. It is decidedly cooler this year than previously, meaning that it is possible to stay asleep in the tent until late morning (previously it has been too hot by 7:30am, so the only thing to do was to get up and drink to keep cool).
This time itís up around 10:30, beer for breakfast and into the festival arena at around midday.
First up is Sweden band Crystal Eyes, featuring former Lost Horizon front man Daniel Heiman. A 40 minute set of power metal tunes from their 3 studio releases so far opens the festival nicely, although nothing really excites and makes them stand out from the plethora of power metal bands around today. (5/10)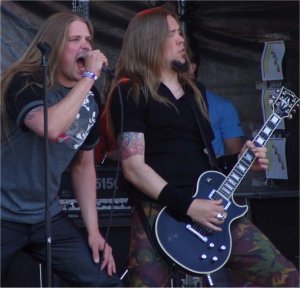 Next is Hellfueled, another Sweden band who seem to be trying to ape Black Sabbath. The vocalist sounds identical to Ozzy, and mimics his stage actions precisely.
The sound is highly derivative, but performed well, and they were an entertaining way of passing an hour. (5/10)
As they finish, the huge PA on the biggest stage can be heard pumping out the intricate melodies of Napalm Death. Supporting their new album 'The Code is Red, Long Live the Code', the sound is as brutal and devastating as it has always been, and those of a delicate constitution would do well to stay as far away as possible from the stage! (1/10 - not my scene)
Having survived the aural assault from Napalm Death, itís now time for Anthrax - who seem positively tame in comparison (not a term you would usually use to describe Scott Ianís outfit).
With the late eighties line-up reunited, the original rap / thrash fusion outfit are generating a fair amount of interest in the metal world again, but to be honest there didnít seem to be the same intensity in their live performance as when I saw them at Donington 18 years ago. OK, so weíre all a bit older now and Iím probably being over critical. The performance was solid enough and very well received. (5/10)
Alerted by a text message that something good was happening at the tent stage, I wandered over to check out The Ring - yes, the influence of Tolkein is felt strongly in this Sweden power metal outfit who have just released their first album 'Tales From Midgard'.
The speed at which the CDs were selling during and after their performance says all you need to know about their quality. Great songs, powerful riffs, and a commanding stage performance Ė they might just have what it takes to rise above the masses and become more than Ďjust another power metal bandí. The album is pretty good too (yes, of course I bought one along with everyone else). (8/10)

Time for a quick look at Crucified Barbara, 4 rather nice young ladies from Stockholm who have had some success in the Sweden charts.
Originally a punk band, they now lean towards a metal / rock Ďní roll / glam hybrid sound. I think they really need to focus more on one aspect of their music as it lacked any obvious direction and coherency. (3/10)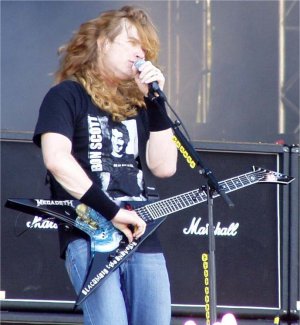 I left them after a few songs to go and take a look at Dave Mustaine and his latest incarnation of Megadeth. This was one of the surprises of the festival for me, as Iíve never been a huge fan. The performance was tight, the new songs from 'The System Has Failed' were good, and 'Symphony of Destruction' and 'Peace sells' were brilliant. Megadeth back stronger than ever?? Donít bet against it. (8/10)
It was now clear that something other than beer would be needed to survive the day, so a first visit (of many) to the 'Wokad Alg' stall was in order. That means moose kebab (pitta bread, lettuce and moose meat). Not to worry if moose isnít your thing (but donít knock it till youíve tried it), there are plenty of options when it comes to food here, and the prices arenít too scary either.
The first real clash of the festival loomed, Saxon or Within Temptation? After a brief look at Biff & co, seeing that they were in as good form as ever (9/10), I decided to drag myself away and take a look at the Netherlandsís hottest rock export.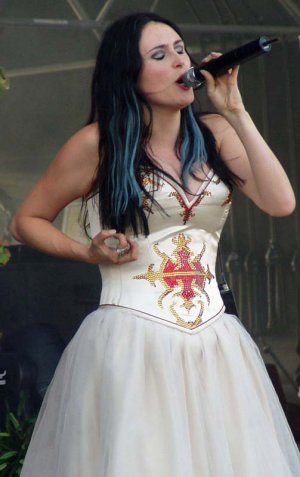 Fronted by the stunningly gorgeous Sharon Den Adel, they inevitably draw comparison to Nightwish and Evanescence and are starting to reap the rewards of being in such good company. Their sound is mellower than the other two, with Sharonís lilting voice rising to hit some unbelievably high notes. Her stage performance is reminiscent of Kate Bush, and the set includes a cover version of 'Running Up That Hill' amongst songs taken mostly from 'Mother Earth' and their current album 'The Silent Force'.
This band is not all about Sharon though, with the supporting cast led by Robert Westerholt on guitar all clearly very proficient musicians. (10/10)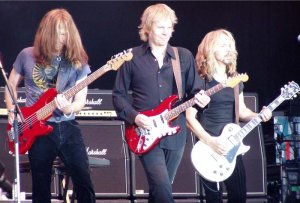 Follow that Styx, a band I am not particular familiar with and have in the past dismissed as a novelty act. How wrong can you be? Lawrence Gowan, Tommy Shaw, JY and co. gave us 90 minutes of outstanding entertainment. Experience shows through, and coupled with around 400 shows in the past 3 years Ė you just donít get any better.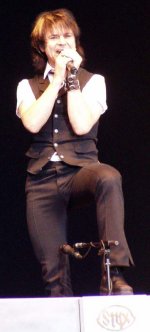 The set included many songs I didnít know, but 'Come Sail Away' and 'Grand Illusion' sounded great, along with 'I Donít Need No Doctor' and a cover of the Beatles 'I am the Walrus'. OK, Iím converted Ė time to buy some CDs. (10/10)
Choice time again - Motorhead with the bomber lighting rig, or Nazareth. I decided on the latter, having seen Lemmy here a couple of times before.
With Dan McCafferty and Pete Agnew both approaching Ďbus passí eligibility, many would be forgiven for thinking their best performances are behind them. That doesnít seem likely based on this show, once again proving there is no substitute for experience, and when youíve got a catalogue of songs like Nazareth have thereís no way itís not going to be a great show.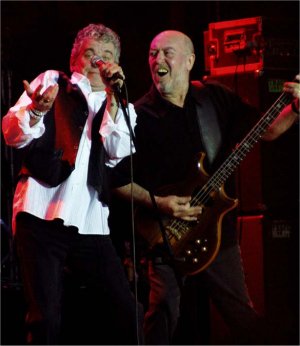 'Razamanazz', 'Hair of the Dog', 'Love Hurts', 'My White Bicycle', and 'This Flight Tonight' to name a few, all delivered with Danís trademark raucousness showing heís lost nothing in the vocal department. (9/10)
Headline slot on day 1 went to Accept, reformed for a series of summer dates only. Never particularly successful on this side of the North Sea, the Sweden crowd appeared to love every minute of it. Fair to say they put on a good show, even though the only really recognisable song to me was 'Balls to the Wall' which was delivered with punch and attitude. (6/10)
Back to the tent for a nightcap or five and hopefully some sleep before starting again.
Our Man in tent: Ian Pollard
Text and all photographs
© 2005 Ian Pollard. All rights reserved.