Download two free songs from 'Twisted City': Click here for more information
CHRIS SINGLETON: singer songwriter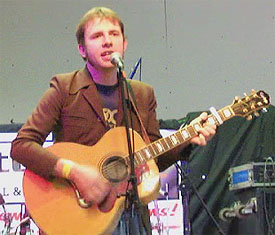 Photo: Prakash Acharya
Chris Singleton's debut album 'Twisted City' was released in September 2006 and quickly gathered glowing reviews. Influenced by the three Bs - Beatles, Bowie and Bolan - Chris based the album on a tube train journey through London. To promote the album on release, he did just that: busking through the underground.
To promote the release of a 'double-A' sided single in August 2007 he undertook the 'Monoploy Tour' which saw him visit some of the board destinations with a musical connection.
He told David Randall more about his unusual promotional methods and his progress to date.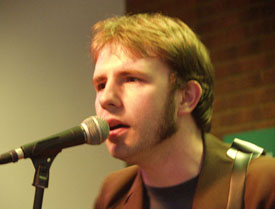 Photo: Ian Pollard/GRTR!
---
Interview with Chris Singleton, 12 September 2007 (6:43)


© 2007 David Randall/GRTR! All rights reserved.

If you can't see the embedded player, you'll need Real Player. Follow the audio help link at the top of the page.
---
Cambridge Rock Festival review
Rising Stars (interview)