CHRIS SINGLETON Twisted City
Brownpaper Records (2006)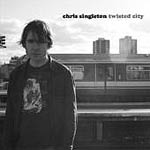 After reviewing his rather excellent single 'Worry Number One' recently I was very keen to hear the whole album.
The album kicks off with the single and from then on it is one glorious ride of well crafted pop rock tunes. I defy anyone not to enjoy 'Get Up' - simply wonderful chorus and one you can't stop playing.
Throughout the album you get some neat electronic touches, like on 'Stop Following' coupled with solid guitar playing. Other tracks that stand out include 'The Only One' (very Belle & Sebastian) and 'Gimme Something', where again the chorus is simply blissful.
Never mind those talentless losers James Blunt and Jack Shi..., sorry Johnson, this is how to do pop rock/singer songwriter tunes. Like last year's album by Paul Liddell, this is an album you can play again and again and never tire of. Just go and buy the album!
****½
Review by Jason Ritchie