GLYDER
Glyder - fast rising Irish rockers whose second album 'Playground For Life' is just out. They are gaining lots of rave reviews and fans plus they have been tipped by 'Classic Rock' magazine as one to watch in 2008. Over to the band's guitarist Bat Kinane...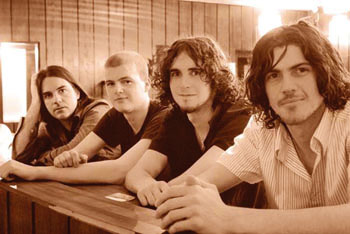 What are you currently up to?

We are getting ready for our album launch night in Dublin on the 18th January after that it will be preparations for the Fish tour and then preparations for summer festivals etc. After that I hope we can start to do pre-production for the 3rd album.

Could you take us through the excellent new album 'Playground For Life' and some of the ideas/stories behind the songs please..

Gamblers Blues was written in the South of France on a break from touring with Thunder. The song came very quickly and it started off with a riff idea that Pete had and it inspired me to complete the music for the rest of the song.
The lyrics deal with a Gambler which for me playing in a band is like being a Gambler... You might just have that winning hand. The first verse came straight away and Tony and I wrote the lyrics to the last two verses in preproduction. It has a dramatic intro and gradually brings the listener in. This one works well in the live set.
Sweets is one of the first songs written for the album, very menacing and dark but funky. Musically this is the one I'm most proud of. It has lots of changes and moves along very well. The crazy intro hook is doubled up on slide guitar and sounds great.
Pete has an amazing solo at the end that reminds me of Randy Rhoads in its structure and melody. There are some nice harmony parts there too and its double tracked note for note in Randy Rhoads fashion
Tony wrote the lyrics after a trip to Amsterdam and it deals with that culture and all its trappings…

Puppet Queen started off with the intro riff, I played it to Tony and he came back with the verses, chorus and lyrics. I think it has a real punk thing going on and is reminiscent of the punk era in 1977 and reminds me a bit of the Clash and The Only Ones.
The chorus brings Deep Purple to mind and Tony's backing vocal reminded me of Zappa. Davy does a great drum solo at the end. Lyrically it deals with a lot of the celebrity culture we live in and the fickleness of it all.

Playground For Life started off as a song called "Midnight in San Salvador". I was listening to "Songs from the Capeman" by Paul Simon and watching a programme about gangs on the television and the film "City of God". The music fitted the Latin vibe I was in.
Tony took it and replaced the lyrics and vocal melodies but keeping the hook "is it really me their after" and the line "playground for life" out of the chorus. The theme of the song changed and it became about the overall theme of the album and how the world is your playground and you choose your own path.

For Your Skin is a love song composed by Tony. It is one of the strongest songs on the album and vocally, Tony delivers a passionate performance. I think the song builds well and we put in two key changes to build it.
The lyrics have a poetic feel and are written like the way Phil Lynott wrote some of the early Thin Lizzy stuff with references to places and people and a play on words.

Walking My Own Ground was the last song written for the album. It was the most difficult to write although musically a very simple song. Originally demoed as "A walk in your Shoes", it just wasn't working.
I started afresh keeping the bridge riff and some of the music on the chorus. I rewrote the words and Tony took it and added new lyrics for the bridge bit and I couldn't think of the last line so Tony came out with it…."Walking my own ground".
Musically it reminds me of a mix between Thin Lizzy and Green Day. Lyrically there is a little influence of Rory Gallagher and solitary way of life it can be being a musician and following your own dreams and not what society expects you to do.
Dark Meets Light started with the intro riff that Pete wrote. Tony took it and altered it for the verses and wrote the Chorus. This song was originally called "Satellite" but we felt that it wasn't working in its original form.
Tony reworked the chorus but kept the verses. I think the verses are really strong and that Tony has a great vocal here. The chorus makes me think of Metallica in the
melody and the lyrics.
The song breaks down nicely with just bass and vocal and coming back in strong on the chorus. There is lots of harmony guitar going on and Davy adding a great groove.

Sleeping Gun was originally on the debut EP "Black tide silver path". The main hook is a guitar part that creates a certain mood when I wrote it I was listening to Sting "Mercury falling". Tony came up with the Lyrics and melody lines and wrote the music in the midsection piece.
This version Tony reworked the lyrics and melody lines. It has more of a groove now and vocally it reminds me of Sting. The lyrics are about the school killings in America. Pete has a very short but great solo at the end. It brings Michael Schenker to mind.


Over and Over is a Tony composition. We recorded this song for Irish National radio station 2fm in late 2006.The song hasn't changed a lot since its original form. It has a very contemporary sound and the main riff has a punk vibe. This is a great song to play live as it has a real power groove and stomps along. Davy has some really fine drumming in this.

The Merrygoround is probably the oddest song on the album and most removed from the Glyder sound and has a Pink Floyd feel to it.
Lyrically it deals with the clerical child Abuse scandal in Ireland and the way the church chose to deal with the situation. It is a protest song and its deals with the sheer apathy of the Catholic Church in Ireland to the problem. It is also relevant to all abuse of power and when people are in power they neglect the needs of the ordinary man. I think it works best as the outro with the epic feel at the end of it.

Do the band feel they have progressed sound wise since your debut album? How did Chris Tsangarides get involved again?

We have progressed a lot since working with Chris especially when it comes to working in the studio. We have obviously progressed as songwriters and musicians , everyone does as they get more experienced. Chris mixed the album and gave it plenty of balls.

Were you pleased with the reaction to the debut album both from reviewers and fans?

Yes we were very happy and you were the first person to review it too!! It got great acclaim mainly from underground sites and magazines etc. Kerrang gave it a great review and some of the main magazines in Europe.
Overall it was 90% positive. We gained a solid fanbase from it and we now have a growing solid base all over the UK and mainland Europe.
One recent review said we were "Europe's best kept secret", there are lots of people really excited about us but there are some sceptics too because we aren't on a big label and they think if you have got that kind of endorsement that you haven't got the goods which isn't true.
How did the Thunder support slots go and how did the band get onto the upcoming Fish tour?

The Thunder dates were great and very important as they established us an international live act, We are now getting a foot on the European festival circuit so it was all part of getting us another step up the ladder.
Thunder are great guys and they treated us great, Danny is a top bloke especially for an upcoming band that needs a little advice and direction etc.
Danny and I have a lot in common as we both are business like in our approach and I'm really starting to know the in's and out's of running a band as a business.
I think this approach is the only way a band that plays our style of music has any hope of being successful. Luckily I am a creative person too and can switch off the management side when I need to write.
I find I cant do both at the same time though. I chased up the support slots for the Fish tour in 2007 but they already had a support band so the guys gave us the 2008 UK dates. I got in touch with the guys through Mark Wilkinson who did the art for our new album and as you know he is famous for his amazing work with Fish and Marillion over the years.

Have you seen any upswing in interest in live rock gigs since the band started? What have been your stand out gigs to date and why?

Its hard to tell really as there is not really a regular hard rock live scene in Ireland. there are lots of bands now playing that style so
I suppose there will be more and more interest form the public and venues will try tap into it. I think the UK has a god healthy live scene now and lets hope it stays that way.
The best gigs were "Gods of Metal" in Milan as that was the first festival we did. I got to meet Ronnie James Dio and have a drink with him at that so that is a memory I will treasure.
I enjoyed the first tour we did with Thin Lizzy as it was the first time we were on a stage bigger than the corner of a pub. The last date we did with Thunder in Switzerland was great because we were on fire that night and I just wished we could keep touring because we were just getting better every night.

In an ideal world which bands would you like to tour with in the future and what bands do the members of Glyder enjoy seeing live?

i would like to tour with any of the big bands but I have a passion for Iron Maiden so if I every opened for them I would be so pleased, although the Maiden audience would be a tough one to crack, Maiden fans are real fanatics and they don't welcome opening acts very well , I've seen that in Dublin where they have played a good few times.
I'd like to tour with Def Leppard and we are on the Sweden Rock Festival this year and they are a headliner.
I would also love to open for Deep Purple. Tony would love to open for the Foo Fighters because he loves them and Davy would probably like to open for Dream Theater or Slayer so he could watch all that amazing drumming. I'm not sure about Pete but I would imagine Deep Purple or Led Zeppelin.

Highlights and lowlights so far for Glyder...

Its been all good to be honest, sometimes its hard waiting on stuff to happen and the wheels of the music industry move very slowly so you have to try and make it happen for yourself.
It's like a big game of chess and making all the right calculated moves. I'm sure we will have our highs and lows this year and Im sure some of it is already mapped out for us but we have worked hard to get where we are and we haven't a lot too lose so we will carry on doing what we can.

There are a lot of bands out there vying for attention - how does the band try & stand out and get themselves known? What would Glyder like to have achieved by the end of 2008?

Some bands wear makeup and wear stupid clothes and masks some use shock value ...bollocks to all that, I think bands should focus on the music and then worry about all the other stuff later.
Some people want to be rock stars for the lifestyle and forget about the music but the reality is most people don't buy into that shit anymore.
The last band that did that and were any good was Guns 'N Roses, music has really sucked for a long time and it's because the bands are too busy putting on their make up and not focusing on writing good material.
By the end of 2008 I would like us to be regarded as an important band in the genre of Classic Rock and Rock.

Message for your fans...

Thanks for 2006 and 2007 - now lets work on making 2008 the year the year of Glyder!
---
Interview © 2008 Jason Ritchie.
All rights reserved.