---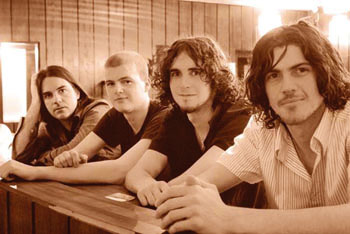 Glyder are (left to right) Bat Kinane (guitar, backing vocals), Davy Ryan (drums), Pete Fisher (guitar) and Tony Cullen (bass, vocals)
Glyder - fast rising Irish rockers. They are gaining lots of rave reviews and fans plus they have been tipped by 'Classic Rock' magazine as one to watch in 2008.
The GRTR! Rising Stars showcase features music, news and interview.
Rising Stars Episode 3 (available 23.02.08)
Featuring Glyder
1. P.U.P.
from the album, 'Glyder' (2006)
2. Lucky Strike
first single (2005)
3. Colour Of Money
from the album, 'Glyder' (2006)
4. Playground For Life
from the album, 'Playground For Life' (2008)
5. Satellite(demo)/Dark From Light
from the album, 'Playground For Life' (2008)
---
Subscribe via iTunes (click the link - you'll need to have an iTunes account)
Subscribe via our GRTR! RSS feed

---
Website links
GLYDER (Official website)
Glyder CD review (2006)
Playground For Life CD review (2007)
Interview (2008)
---