Just witnessed your best live gig?.. send us a review!
HARD ROCK HELL V, Prestatyn, N.Wales
1-3 December 2011
Photos by Noel Buckley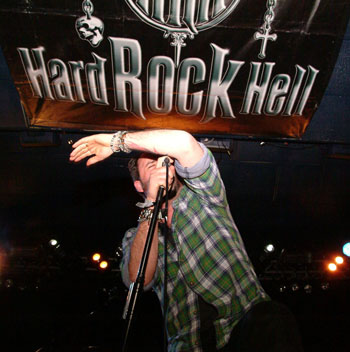 Hard Rock Hell is now firmly on the calendar and it's easy to see why. A holiday camp transformed into a weird winter wonderland.

I am sitting in a chalet with our photographer Noel Buckley discussing the story so far. The two main stages are generously proportioned. At some festivals,, the emphasis is very much on the main one with an inferiority complex bestowed on the others. But here it was very easy to traverse from one to the other via the merchandise stalls, bars and catering outlets,

Noel had been here for the preceding night for Girlschool, Praying Mantis, Tygers of Pan Tang, Demon and reported a good attendance and rapturous reception for all four of these British veterans. At the press room, I managed to catch up with Girlschool so look out for the interview on GRTR! Radio.
Friday 2 December

Talking of girls girls girls, on arrival I managed to catch the end of The Amorettes set on the third stage at the Queen Victoria.
These lasses, not long on the circuit, cite Girlschool as their main inflluence even though they look more like The Runaways, but we wise ones reckoned that there's a gap for a decent new girl band and this was the perfect showcase for them.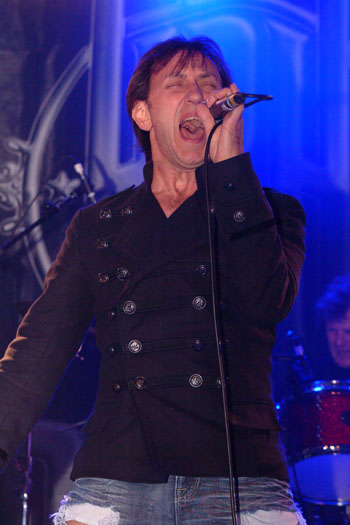 My first full gig was Airrace who have been making some waves since their reformation. The twin lead guitars of Dean Howard and Laurie Mansworth plus the harmonies which tangent to Keith Murrel's falsetto voice make for a fulsome sound.
Inevitable comparisons with Journey and Foreigner will always follow bands like this and yet standing at the back listening to the immaculate mix (well done chaps), crowd pleasers like 'You'd Better Believe it' were a counterpoint for what Hard Rock Hell is all about.

Obsessive Compulsive I'd seen at smaller venues before but on the bigger stage they excelled. They probably wouldn't thank me for Evanescence comparison, but Kelly is such a strong front presence. Melding passion song writing and energy into a concoction that is pleasing on all the senses, OC will continue up the billings. You watch.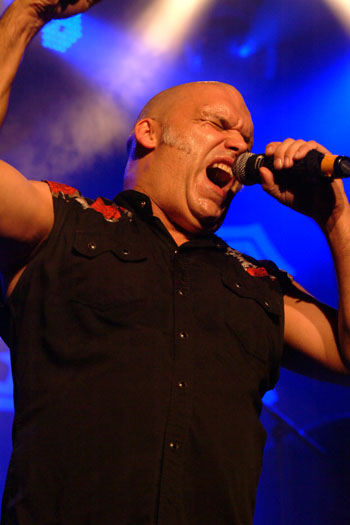 Touring partners Blaze Bailey and his Wolfsbane worked the crowds well and it was great to see the former Maiden man live up to the reputation of Mr Consistent. Noel and I can't recall him ever putting on a bad show on. And this was no exception.
---
Voodoo Six: Pearl Jam meet Audioslave in an operating theatre.

---
I made a beeline for Voodoo Six. Momentum had been lost for this five piece with a line up change, but my interview with them revealed that with Luke Purdie on lead vocal that they now have the renewed potential for greater things.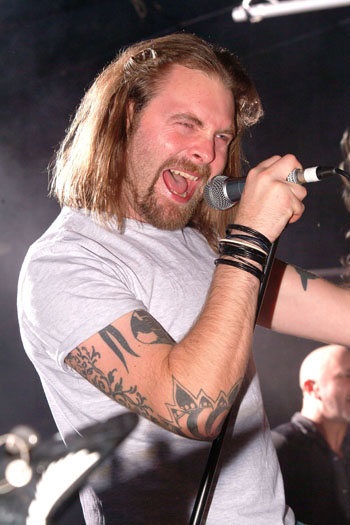 Playing stuff mainly off 'Fluke' (geddit?) and their new EP 'Falling Knives,' the vibe is foreboding. Pearl Jam meet Audioslave in an operating theatre. The audience responded to the pumping rhythms in songs like 'I'll Take the Pain' with guitarists Matt Pearce and Chris Jones raising the bar.

In a similar vein, fish out of water potentially were Therapy? Belfast's famous power trio pogoed their way through some high energy punkish philosophy which had its roots in bands like U2 and the resurgent Stiff Little Fingers.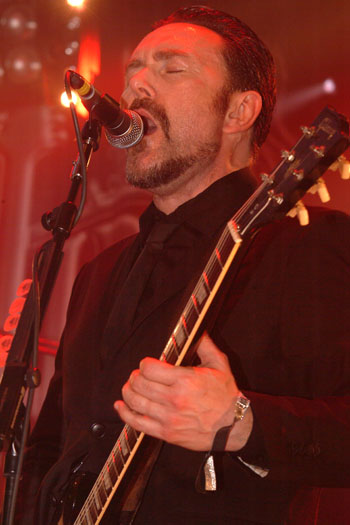 Andy Cairns revealed to me later that he was pleased with the 75 minute slot which allowed them to create a rapport with a largely receptive crowd. 'Long Way from Home' is typical of their brand.
Always an observational message wrapped up in a double time riff of gargantuan proportions, Therapy? show that you don't need guitar histrionics for a rock song to work.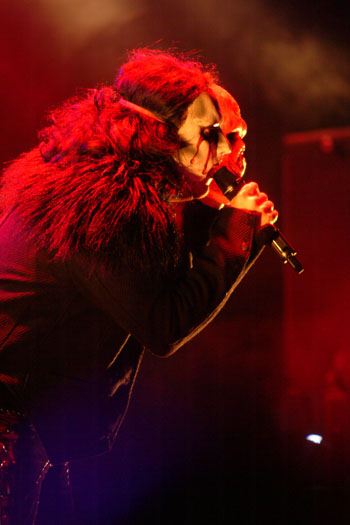 Opinions were divided about Lizzy Borden. Perhaps tiredness was my problem but I can't remember one memorable riff amongst the mask changes.
Loosener for me was the fire breathing burlesque babes. In fact I cried into my pint when they disappeared back stage because it meant that I had to continue to figure out the point of the songs. Glum not glam. Bah Humbug! The girls are back. Hurrah!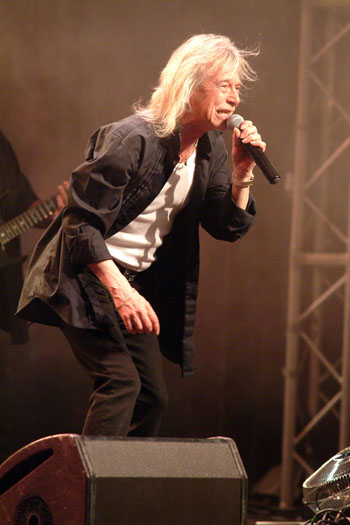 GRTR's anniversary band for 2012 is of course Magnum who were in fine form although it did seem to take a while before Bob Catley succeeded in getting everyone going. By the time we arrived at ''How Far Jerusalem' with its haunting middle section perfectly executed by Tony Clarkin on guitar, the challenge was set.
The seminal 'Kingdom of Madness' ended the show with aplomb. After a slow start one of Britain's hardest working rock bands had eventually turned around a strangely lethargic court. True professionals with a back catalogue most bands couldn't steal, Magnum were not about to go through the motions and left the stage with the reception they deserved.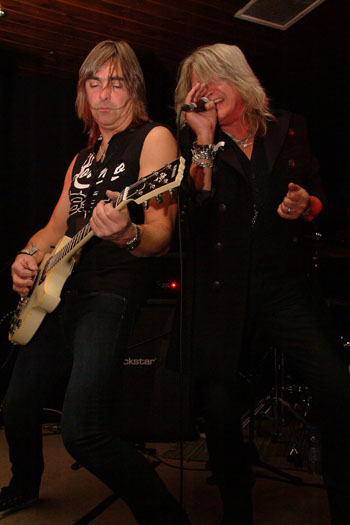 Saturday 3 December
Interview slots meant I missed most of the Stampede and Dan Baird gigs although Noel caught both. Judging by 'Keep Your Hands to Yourself' the Georgia Satellites man had them in the palm of his hand.
With erstwhile UFO guy, Lawrence Archer back in the saddle for Stampede, songs like 'Hard Rock Hell' set the Saturday off to a fantastic start. Having spent some social time later with Stampede's Reuben Archer, the number of punters congratulating him was evidence indeed that this reformed Stampede are gaining momentum.

Off I went back to the pub to check out Bronz, Agincourt and Witchfynde with an interlude for the former Mamas Boys guitarist, Pat McManus on Stage Two. Well themed, the organisers had chosen a kind of NWOBHM mix for the smaller stage.
Out of the three, veterans Witchfynde shone through with a tumultuous 'Holy Ground' which set the scene for a barrage of riffs which would not look out of place on the new Sabbath album.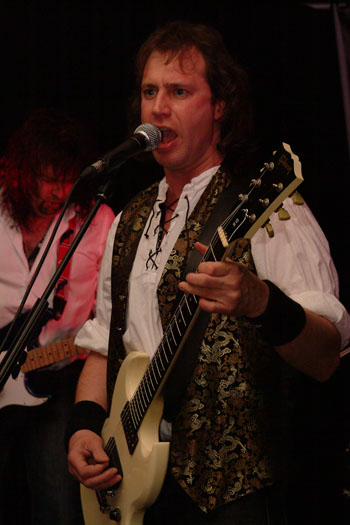 Bronz though failed to lift me much beyond the catchy 'Stranger in the Dark.' Too many anthems does not a happy boy make. One polite heckler mumbled into his pint during 'She's a Tiger,' "yep got that" after the sixth minute and "got that too" for the curiously tuneless 'Can't Live Without Your Love.' I had to agree that puddings were over egged. Agincourt brought history to the table but didn't impress until the last song 'Queen of the Night.'
---
McManus proceeded with one of the best displays of blues guitar playing I have seen since Gary Moore in his prime.

---
Before I am castrated summarily in the style of Black Adder, may I immediately sing the praises of Pat McManus. Self deprecating about his advancing years and lack of stamina, I'd have said that those two factors were in too obvious abundance. 'Runaway Dreams' with its violin solo was like a breath of fresh air.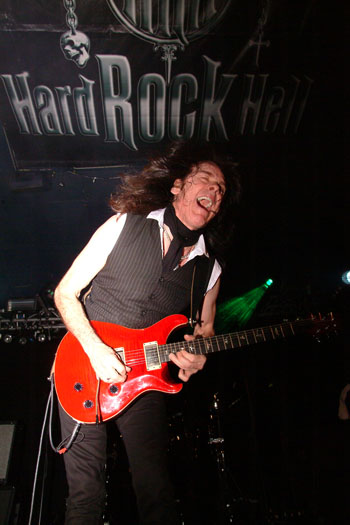 As if to further illustrate the irony, the blues epic 'Back in the Saddle' was one of those tunes where the vocal follows the guitar hook ,a technique so immaculately demonstrated by Rory. McManus proceeded with one of the best displays of blues guitar playing I have seen since Gary Moore in his prime. The ballad, 'Diamond in the Rough' would move a showroom dummy. Smile? I nearly raised a lighter!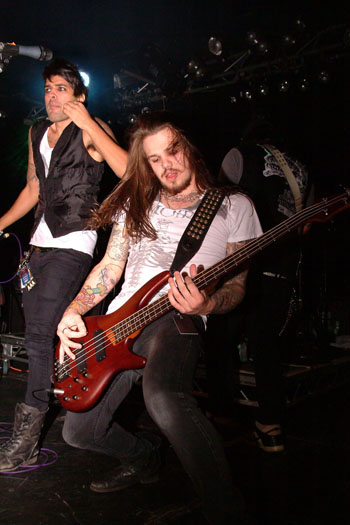 Therapy? stable mates, Dear Superstar, a band with humour, verve and musicianship too. Likeable, this is a prime example of a band which should, if it wasn't for illegal downloading, stand a chance of making a living out of it. Don't get me started!
Similarly of the young bands, Exit State too have worked their magic non stop for a year. Technical issues were beyond their control and yet they rode straight through them like Socrates on speed. A fabulous example of triumph through adversity.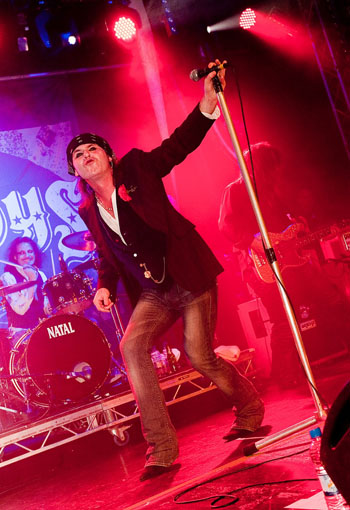 The Quireboys will never give up never surrender an opportunity that the Frehley accident had afforded. The 8.30 slot mean that they could acquire the hearts of an audience which had not quite got sozzled yet.
Spike, sniffing blood, took the challenge by the scruff of the neck and you could see in the boy's eyes that the back catalogue was going to sit well amongst a crowd that was already in party mood.
By the time they reached 'Hey You' this Faces, Stones influenced outfit had the capacity hall in raptures. Ex Glenn Hughes drummer, Matt Goom has adapted well to the Jones/Watts style and here we have a line up that could well propel them steadily back up the bill where they belong. Fun and frolics. Beer was spilt as those who don't dance, danced. Rock with swagger. A text book performance.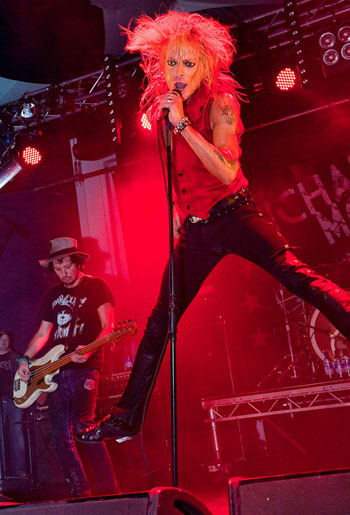 Smiles were in abundance too for Hanoi Rocks front man, Michael Monroe. Ace Frehley might have strained his wrist and pulled out of the festival, but we could still welcome Mr Monroe and his camp delivery which is very hard to dislike.
The wit of Dave Lee Roth combined with the audience control of Paul Stanley, Monroe glided effortlessly around his band largely promoting the new album, 'Sensory Overdrive' yet straying into the almer mater for such beauts as 'Malibu Beach Nightmare' Three encores included a cover of Aerosmith's 'Walk this Way' and 'Radar Love.'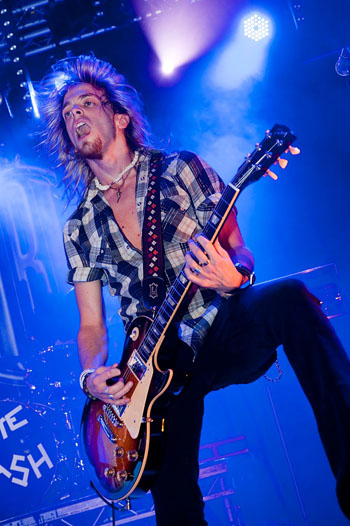 Black Stone Cherry are at a stage in their early career where they can do no wrong. All three mainstream albums have received rave reviews. 'Folklore and Superstition' has already spawned modern classics such as 'Blind Man,' Soul Creek' 'Things my Father Said' and now they have the goddamn precocious cheek to come over here, steal all our women and release 'Between the Devil and the Deep Blue Sea' which has now fathered even more humdingers like 'White Trash Millionaire' and 'Blame it on the Boom Boom.'
All of these were delivered with the continuity of a Wells Fargo carriage driven by Ozzy. For me Chris Robertson's vocals hit the groove with such regularity. Chris has that je ne sais quoi that just works.
In fact, there's a resonance that runs through this band front to back and it was a privilege to actually see them perform live at last. No 'Ghost of Floyd Collins' but the sign of a great band is when you go home in your car singing along to the imprint they stamped on your frontal lobe.

The biggest cheer must go to the organisers. The sound was pretty much perfect on the two main stages. Lighting was a little lax on Stage two and three but these are minor beefs. I am confident that even bigger big names will be attracted to this festival in the future. Gawd bless our HRH.

Review and interviews by Keith Thompson
Keith presents the weekly Rockwaves on Get Ready to ROCK! Radio
Photos by Noel Buckley
Tip: You can use the direction keys on your keyboard to flip easily from one photo to another
---
---