Legendary guitarist reputation left upstanding...just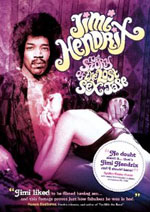 Oh lawd. Just when you thought that the barrel had been well and truly scraped an 11 minute sex tape purporting to feature Hendrix in a threesome rears its ugly head. Talking of which, proper identification is made difficult because the member in question is fuzzed out. We assume that this is a 'defect' on the original tape. As a result there is a distinct feel that the viewer is at an early cinematic peep-show.
We get a rolling commentary from two of the key players in the history of rock and roll sex: Pamela des Barres and Cynthia 'Plaster Caster'. It was Cynthia who has cast many a member (including Hendrix) and it is largely her testimony that this film and therefore its subject is the real deal. Cynthia also reveals that her assistant Diane fellated her subjects to allow the proper execution of this particular art form. This is at least worth knowing.
Whilst 'Hendrix' (or his stand-in) is seen mainly obscured by the two harlots Cynthia is convinced that his square shoulders, facial bone structure, oh and the bandana, makes this authentic. But it is really the shape of things to come that squares the deal for Cynthia as she excitedly describes the 'Purple Haze'.
Pamela for her part regrets that she never slept with Hendrix but she looks damn good for a 60-something year old, and perhaps that's why. And that's about it. The two stalwarts of rock and roll sex flesh out an otherwise painfully short cash-in. Stick with the music.
**
Review by David Randall