Blues maestro in trad jazz mode...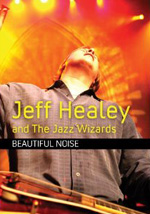 Jeff Healey's 'Beautiful Noise' is a curious release. For just like Zappa before him who managed to drag some of his rock audience to a different musical landscape (in this case some opaque classical music) Jeff reveals a musical mistress.
In fact Jeff's passion for Trad jazz more closely accords the musical penchant of film director Woody Allan. But while for one it was a hobby for the other it was passion that was ultimately never overshadowed by his main rock/Blues career. The problem is convincing his fans that there is an accessible crossover point from Rock to Swing.
After all on his penultimate British tour tickets sold like hot cakes until the penny dropped that he was playing nothing but Trad jazz. And that's a shame for on the evidence of some of the music here there's much to admire. His band is good, the solo's burst with passion and commitment and above all the band do swing, if not with abandon, then certainly enough reverence to please a crossover crowd.
And as the horns pump, the piano rolls and the syncopated rhythms fill the church, Jeff find a mid-song moment on which to play some hot club guitar.
But he starts on trumpet and overcomes a stodgy to top a swinging groove with a blustery solo.
But though the music is good you suspect that in commercial terms this was an opportunity missed. For if you accept the premise that this DVD will be too jazzy for rockers and Jeff's performance too reverential to be cutting edge for jazz fans, what's required is more of sense of personal musical journey that brought us to this point.
As it is the documentary makes do with Jeff talking about instrumentation, how from the age of 2 he worked his way through piano then guitar, wind interments, drums, bass, and 'the need to have an understanding of other musical instrument s in order to work with them'
Beyond that he mentions the notion of audience interaction, 'even if they don't know what they are going to hear.'
Certainly Jeff is an engaging enough and coherent interviewee, though what Rock will fans make of his singing on violin laden Benny Goodman ballad 'If I had You' and Christopher Plock's hammed up vocals on the jump rhythms of what Jeff calls one of the 'the speciality numbers ' - in this case the standard, Dark Town Stutter Ball' anyone can guess.
Still less essential is the cabaret feel 'I'm Gonna Lock My Heart & Throw The Key Away' and the languor of 'Sugar Blues', that is of course until vocalist Christopher Plock pops up with the old Dick Heckstall Smith two horn trick. For her part Terra Hazleton is a vibrant vocalist but she does little to eschew the feeling of cabaret singing.
There's no doubting the power of the music and Jeff's total commitment to it, but at no point in this DVD is there any mention of his day job.
He saves his most telling comment for near the end but doesn't expand on it; i.e. his interest in an 'All around entertaining show, not necessarily jazz' but 'something that people might want to hear individually or collectively but they don't, so this is what I prefer to do.'
And I suppose if you accept that Trad jazz is a combination of many things from dance to blues then he has a point. Jeff sings for his supper on 'Sing You Sinners' on which the band stretch out impressively before he belatedly adds a spiky little guitar solo.
And while the band evoke the Grappelli/Reinhardt era on 'Sweet Georgia Brown' and Jeff adds some celebratory scat singing, the unfortunate bonus tracks - particularly the vocal/piano duet of You Go To My Head' - are just a tad too MOR for most rock fans palates. And as such this DVD will probably not achieve the kind of wider appeal its performers deserve.
***
Review by Pete Feenstra