Cheeky chappy exposé...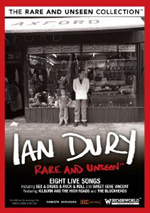 Ian Dury 'Rare And Unseen' lives up to its title with some interesting career film clips as well as the final moving denouement when he talks openly about the cancer that ultimately killed him.
'Rare And Unseen' comprises plenty of interesting interviews, solid live footage (eight songs worth) alongside brief vid clips that go a long way to cementing the working class hero image of a wordsmith whose work still rings loud and clear long after his death.
In reality Dury was born in Harrow not Upminster and as is often supposed his background was partly middle class - him mum was a daughter of a doctor - and Ian was second generation Irish on his mum's side.
Indeed when asked for some cockney rhyming slang by a Geordie interviewer, he chooses instead to talk about the rhyme's origins rather than rap off the cuff.
Nonetheless it's Dury the art teacher turned singer who holds centre stage and his snappy repartee and quick turn of phrase effortlessly matches some of his song characters from 'Clever Trevor' to 'Billericay Dicky'.
There's a notional sense of chronology as an early interview in the Hope & Anchor has Ian talking about his earlier band Kilburn & the High Roads, (later seen in action). He quickly dispels some of the myths about the pub rock circuit, in this case the Talley Ho; 'It was so cold we had to wear overcoats'.
On a number of occasions he graciously pays homage to the musical acumen of his band The Blockheads, viewing the difference between them and the Kilburn's as being The Blockheads 'are more relaxed' and 'are better musicians'. Later he makes clear that success came about through a good band and hard work, though he dismisses success itself as; 'like Max Wall, 71 and still doing it'.
In between clips from a disability programme, where he makes light of his polio inflicted disability by telling the presenter he just hides it on stage by ignoring it, there are some excellent live clips.
One of the highlights is a rasping version of 'Sweet Gene Vincent', complete with subtitles and Dave Edmunds on electrifying form on guitar. There's also a clip of the Stiff tour of '77 and the late, legendary Mancunian broadcaster and Hacienda Club owner Tony Wilson who intones in some Queens English in sharp contrast to Dury's twang.
There's also a rarely seen interview with a post Blockheads Dury the actor, who pays his respects in a Yorkshire graveyard to the former Alberto y Los Trios Paranoias frontman Les Pryor.
Despite the slightly annoying jumps between different era interviews, this is a coherent account of one of Rock & Roll's characters who you feel might have been as happy in the Musical Halls of a bygone era.
Perhaps this loveable complex character sums things us best when replying to the question as to what The Americans made of him; 'I'm a living representative that the old firm hasn't gone under!
****
Review by Pete Feenstra