SUZANNE VEGA 'Live at Montreux 2004' Eagle Vision(2005)
Definitive live DVD of influential songstress...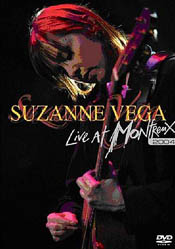 This live DVD captures Suzanne Vega at her best in the live environment and backed on this concert by a full band. All the well known songs are here including her worldwide hit 'Marlene On The Wall' and a cracking rendition of 'Left Of Center'.
If you have yet to experience the delights of Suzanne Vega this DVD is as good as any place to start. Along with Kate Bush one of the few truly great female vocalists of the past thirty odd years.
Very good sound and picture angles throughout the DVD, making it a 'must have' for her many fans. As an added bonus there are three songs from Vega's appearance at the festival a few years later in 2000.
Track listing:
1) 99.9ºF 2) Marlene On The Wall 3) Caramel 4) When Heroes Go Down 5) Gypsy 6) (I'll Never Be Your) Maggie May 7) Penitent 8) Solitaire 9) Left Of Center 10) The Queen And The Soldier 11) Behind Blue Eyes 12) Solitude Standing 13) Blood Makes Noise 14) In Liverpool 15) Luka 16) Tom's Diner 17) Calypso 18) Have You Met Miss Jones
Bonus feature - three tracks from her performance in 2000:
1) Small Blue Thing 2) Room Off The Street 3) Knight Moves
****
Review by Jason Ritchie
***** Out of this world | **** Pretty damn fine |
*** OK, approach with caution unless you are a fan |
** Instant bargain bin fodder | * Ugly. Just ugly