Charting the rise and rise of Rammstein...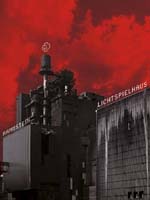 'Astounding, truly amazing' is the response I get from people when I ask what Rammstein are like live. It is no secret that Rammstein are one of the best live metal bands ever to grace this planet and if you want proof of that, you need to get this DVD!
This DVD offers the chance to see every music video made by the band (as well as the making of five of them), footage from various live shows and a TV trailer documenting the rise of Rammstein. The presentation of this package is superb. With a typically (for Rammstein anyway) unusual navigation menu, you can access any of the options by means of a vehicle-like gear stick. All in all the animations of the transitions are very impressive and obviously well thought out.
The live footage ranges from the pre-pyrotechnic days of the 'Herzeleid' album right up to the mammoth stage show that followed their latest album 'Mutter'. The newer fans will realize that they may have taken Rammsteinís stage shows for granted after comparing them to the earlier footage. This is where you get to see how bands and particularly Rammstein have evolved over the years and constantly tried to improve all aspects of their musical careers. This is what it means to be a musician and Rammstein deliver it in spades.
The videos are numerous and cover the single from all three Rammstein albums. A personal favorite is 'Stripped', originally by 'Depeche Mode' and covered by Rammstein extremely well. The videos all carry their own message across but Rammstein being Rammstein donít draw it all out for you. You make your own interpretations no matter how accurate they are. This is what it means to be clever musicians.
You also have access to the making of five of the videos. Each of these have in depth interviews with the various members of the band and sometimes the video producers. This is where you find find out that they are six different people with six different opinions and views. Put them together and you have Rammstein.
If you have a mild interest in the band, worship the ground they set fire to or even something in between; purchase this DVD! It is an essential buy for anyone who has ever thought 'I might check out this Rammstein band'. It would at least hold you in good stead before you witness their live show for yourself (which should be a mandatory law in itís own right). The content, the packaging and the effort that has gone into this DVD shows that this is what it takes to be Rammstein.
****
Review by Alan Fullarton
© 2004 All rights reserved.