More gallop than a day at the races...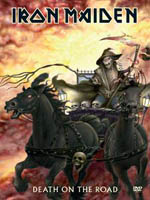 Long overdue, this set was meant to accompany last year's live album of the same name.
It doesn't seem that long ago since we had the Rock In Rio DVD, so do we really need this, especially as the hype surrounding the live set was months ago? Well, judging on the performance and production, yes.
After the hiatus of the Blaze years and a reformation now featuring three guitarists, the band are quite literally bigger and better than ever. And if this German crowd is anything to go by, they're still as popular as ever.
If you can survive the bass lines with more gallop than a day at the races, and a manically grinning drummer who once played with Sooty and Sweep, then you'll love this. Seriously though, while it's easy to mock Nicko McBrain, he has to be one of the best metal drummers around.
The production is solid, the stage show huge, the performances tight. Well structured too, with both Murray and Smith soloing brilliantly, clearly enjoying themselves and Janic Gers fitting in on the old material well without it ever sounding cluttered.
Bruce, who's greatest sin is having short hair (some of his jokes too you could argue), is still one of metal's great frontmen.
He has the energy of an athlete too. All helps.
With all this combined, there are so many bands young and old could learn a thing or two about Maiden.
Disc 1 (actually there's two disc 1's, stereo and 5.1 Surround Sound options to make the most of your system) is basically the entire live show, 105 minutes, and is therefore uncomplicated with all the extras on disc 2.
Kicking off with Wildest Dreams, we then get Wrathchild and Can I Play With Madness; a wide career span in the first three songs. The Trooper proves ever popular, but we then stuck in the new millennium with Dance Of Death, Rainmaker, Brave New World and Paschendale.
Nothing wrong with the material itself, the last two studio albums are actually excellent, but a bit more variety wouldn't go amiss.
Lord Of The Flies and No More Lies are ok, but standout of their career and of this concert is Hallowed Be They Name. Of there's one orgasmic Maiden moment, this is it.
Fear Of The Dark and Iron Maiden follow to much applause, and the band close with the excellent Journeyman, Number Of The Beast and Run To The Hills.
Overall an excellent concert. Performance can't be faulted, but everyone will have their own cross to bear about the setlist. Nothing from Powerslave or Somewhere In Time for starters.
Disc 2, the extras, is a set most will only ever watch once or twice at most but interesting all the same. Two band documentaries, fan interviews, and some promo videos. So total that with the first disc and you get an impressive running time.
Maybe a bit much as an introduction to the current line-up, but essential viewing for Maiden fans.
****½
Review by Joe Geesin