DIO We Rock Universal 983 1183 (2005)
Holy Dio, Holy Diver...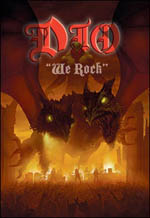 A companion DVD to cash in on the recent 'Holy Diver' re-issue and tour by Dio.
Two concerts on here, one from the Holland and the other from the US. It features what for many fans is the 'classic' Dio line-up of Ronnie Dio, Jimmy Bain, Vinnie Appice and a very young Vivian Campbell (now of course in Def Leppard).
The set lists mixes tracks of 'Holy Diver' and 'The Last In Line' along with Sabbath classics such as 'Mob Rules' and 'Children Of The Sea'. The sound is spot on thanks to Dolby 5.1 surround sound and the band play up a storm – particularly Dio's vocals and Campbell's guitar soloing.
There is an interview from this year with Ronnie Dio where he talks about the 'Holy Diver' album and his days in Rainbow and Black Sabbath.
Pretty damn essential for Dio fans and those who appreciated timeless rock music.
****
Review by Jason Ritchie
***** Out of this world | **** Pretty damn fine |
*** OK, approach with caution unless you are a fan |
** Instant bargain bin fodder | * Ugly. Just ugly