WAKING THE WITCH
Superb female four piece band WAKING THE WITCH have just released their third album 'Boys From The Abbatoir' - if you like female vocals/folk/acoustic/blues music you will love this album.
1. How and when did the band come together?
We all knew each other, or at least of each other, before forming the band, even Becky the newest member. We'd bumped into one another on and off doing solo gigs, mainly in the North. Everybody was tired of slogging it out alone, which can be really hard work and not a lot of fun - especially when you're setting up your own PA every night! - and we wanted to do something based around vocal harmonies. We figured it would be more fun. And so 'Waking the Witch' was born.
It was a bit hairy scary with the band name. None of us could agree on a name for weeks and then suddenly, without any discussion that that was what we were going to do, two of us went home and raked through our album collections and completely independently came up with the name, 'Waking the Witch' , a song from Kate Bush's 'Hounds of Love' album. Spoooooooooky. We just had to go with it.
Up until recently, our style of music has been really difficult to catagorise - kind of rootsy/folksy/bluesy/acousticy - but since we did the new CD and teamed up with the producer, Dave Creffield, it's been tagged 'indie acoustic', which is pretty cool.
2. You won the Best Acoustic Roots Performer at the CRS awards. How did that feel and have you seen more interest in the band since?
We'd never won an award before, so, to be honest, we were all dead chuffed. We've been fighting over who has the trophy ever since December when we were handed it by Carl Palmer...so now it's on a three month rotation (!) It has generated more interest in the band, definitely and we're delighted to have been voted for by such a great bunch of people.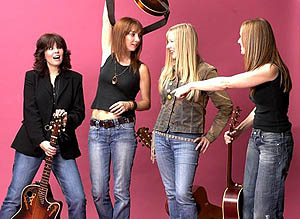 Photo: Band website
3. Could you take us through the excellent new album 'Boys From The Abattoir'?
The way we usually write our albums is by all writing separately then trying the songs as a band. If it doesn't work then you write another.
For this album we've co-written a few tracks, which was fun. Pats and Becky wrote "Yorkshire Boy" after two bottles of red wine. We nicked the first chord from The Jam's 'That's Entertainment' (sorry boys!). It originally had one or two lyrics that probably would have got us banned from places, but after a spot of band editing it turned out to be a corker. Anyway, Rachel's a vegetarian so she wasn't too comfortable with us singing the word 'saveloy', even though it rhymed with 'boy'.
When Rach first played the rest of us 'Me Leaving Me' we all agreed then and there that Bruce Watson was the only man for the electric guitar job. It was mad; we were all singing Big Country-style solos all over it before he even agreed to record with us. It was just meant to be.
The songs speak for themselves really. It's hard to sit down and work out how and why and where a song came from because one has a million ideas and words crashing about, the rhyme and rhythm and structure to consider, not forgetting the music. Quite often, the song you started with is a whole different song to the one you end up with.
4. What have been the highlight(s) and low point(s) so far?
Well we have had so many highlights so far. Playing live is consistently a high point really. It's really where it's at for us. Doesn't really matter if it's a small low key gig or a great stonking festival, they all really do leave you buzzing.
Making this album was also a high point. Dave was the most brilliant and inspiring person to work with and we enjoyed every second of the recording.
As for low points, one of them would have to be two of us getting sunstroke at Cambridge folk festival. Oh yes, straight from the toilet to the stage. NIGHTMARE. Gig was good though!
5. Any good rock 'n' roll tales to tell?
We were once lost backstage at Ipswich supporting the Animals. We wanted to get out but we were stuck in a tiny corridor only wide enough for one person, and it seemed to go on and on. We were all laden down with instruments. It turned out to be a dead end and we had to turn round and come all the way back, at which point Becky started shouting "Rock and Roll!" in true spinal tap fashion.
Suddenly a secret door opened which completely squashed Rachel and there stood Micky Gallagher (who also plays with the Blockheads and is incredibly cool!). He had heard us shouting and came to find out who was making all the racket. Well, we couldn't even walk or speak or breathe from laughing so much. It was funny at the time anyway.
The rest of our rock n roll stories are all secret. If we told you, we'd have to kill you afterwards.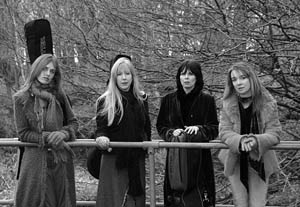 Photo: Band website
6. Your take on the current music scene (both rock & in general terms) . . .
There is always good music out there and it's never been more available. MySpace for instance; there is some great stuff on MySpace - you just have to sift through the nutters. We all like rock in this band but the new folk scene has been impressive recently too.
7. Which new musicians/bands do you think have impressed you? Who would you like to work with in the future?
Karine Polwart writes the most beautiful songs; she's not that new to the scene, but she's quite new to us and she's brilliant.
There's a great young singer/songwriter called Jon Redfern too, who's coming as our guest on some of the dates on the Spring tour. He really impressed us, so we invited him along to open for us.
Lots of good pop music about too - Artic Monkeys, Elbow, Kaisers, etc, and we met an excellent band from Leeds last year at the Leeds Independent Music Awards called Four Day Hombre.
8. What would you like to achieve ideally by this time next year?
By this time next year we want to be looking back on a stonkingly successful 2007 and to have played on Jools Holland's show. Perhaps a few gold discs, platinum maybe. Not much more than that really.
9. Message to your fans?
We hope you love our new album 'cos we're chuffed to bits with it.
---
Interview © February 2007 Jason Ritchie.
All rights reserved.
Album review
Artist website
---
| | |
| --- | --- |
| | Print this page in printer-friendly format |
| | Tell a friend about this page |