TOM FULLER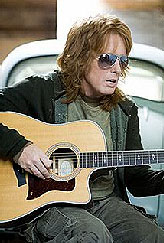 Photo : Jim Newberry

Chicago-based pop music rocker Tom Fuller's second album is called Abstract Man, full of melodic pop rock tunes
It's the follow up to his debut, Chasing An Illusion, and he's been promoting it with his six-piece band in the USA, UK, Germany, and Japan.

What are you currently up to? (recording, gigs, plans)
PLAYING LIVE WEEKLY IN THE STATES, WRITING, AND GETTING READY TO TO LA TO RECORD A DOZEN NEW TRACKS WITH A FEW WELL KNOWN MUSICIANS I CANT TALK ABOUT YET.

Brief history of the Tom Fuller Band..
FOUND 5 GUYS WHO LOVE MY MUSIC, BEEN TAKING IT TO THE PEOPLE..

Could you take us through your latest album 'Abstract Man'
STARTS WITH A FEELING( MUSIC), THEN DEEP THOUGHT PROVOKING LYRICS, RECORD IN A STUDIO, REDEFINE EACH TUNE WHEN PERFORMING LIVE. ABSTRACT TOOK 1 1/2 YEARS TO MAKE.

How have the recent live dates with King's X and Blue Oyster Cult gone?
AWESOME. I THINK THEY LIKE OPENING BANDS THAT RAISE THE BAR, RATHER THAN LOUSY MUSIC WHICH COULD REFLECT BACK ON THEM.

How do you go about promoting your music? Do sites like MySpace, Facebook etc. bring you in new fans and potentially sales? Or is it a case of having lots of 'friends' many of whom never bother with the music?
I TRY TO DO ANYTHING AND EVERYTHING TO GET THE WORD OUT. ITS A HARD JOB.

Who are your musical influences and what inspired you to become a musician?
SAME INFLUENCES AS MOST I SUPPOSE, BUT I ALWAYS LOVED BRITISH ROCK. INSPIRED ME MORE THAN ANY AMERICAN ARTIST. THAT IN TURNED MOTIVATED ME TO PLAY.

How do you view the current music scene? Do you think live audience attendances will be hit with the current economic climate?
YEAH PEOPLE ARENT SPENDING MONEY. BUT SOMETIMES WHEN TIMES ARE TOUGH, PEOPLE WANT GOOD MUSIC TO FEEL BETTER. MUCH OF THE MUSIC SCENE IS FRUSTRATING TO ME.

What have been the most memorable live shows for you and why?
THE LAST ONE, CAUSE IT WAS A NIGHTMARE. MOST MEMORABLE IN A GOOD WAY? 24-09-08 CAVERN CLUB/LIVERPOOL. WOULD GO BACK IN A MINUTE TO DO IT AGAIN.

Any good rock 'n' roll tales to tell?
YEAH BUT I WOULD GET IN TROUBLE EVENTUALLY :)

What do you like doing with your spare time outside of music?
MY DOG STAR, ANYTHING HAVING TO DO WITH WATER, AND MEETING NEW PEOPLE.

Message for your fans...
I LOVE YOU ALL AND AM GRATEFUL YOUR SUPPORT.
---
Interview © February 2009 Jason Ritchie.
All rights reserved.
---
| | |
| --- | --- |
| | Print this page in printer-friendly format |
| | Tell a friend about this page |