1. What are you currently up to? (e.g. touring/studio,etc.)
Tomorrow I'm doing a full day with Mike Wilton (guitarist and co-creator of the Tenderhooks sound) in my studio. We'll be working on new material and polishing up some tracks ready for Thursday.
On Thursday I'm working with Phil Saatchi (drummer/engineer/producer) in his studio. We'll be finishing two songs, Sometimes and Did You Know up to pre-mastering quality. Songs for the next album.
Otherwise I'm promoting the album, sending out lots of emails and albums to get more airplay and reviews.
2. Who was/is/are the biggest influences on you, musically?
I like a wide variety of musical styles, song writers and singers. Beatles, Talking Heads, Bowie, Bruce Springsteen, Pink Floyd, Oasis, Blur, Ray Charles, Franz Ferdinand.
Mike brings on board his genius of great guitar playing and experimental sound creation. His main influences are The Who and Led Zeppelin.
3. What's the idea behind the Tenderhooks character and where did it come from?
Tenderhooks was the name of my first band. It's a name that kind of stuck. With the rise of the internet being a great shop window for music I decided to try a Gorillaz style approach to create interest in my music.
Fortunately I met Steven Thornton who lives in Brighton. He created Tenderhooks and does the animations and website. He's an awesome talent. Once we start to sell albums in numbers we can make a pop promo and develop the merchandising side of Tenderhooks. Because he's a virtual rock star we can develop his world and create really entertaining story lines.
4. You've seen the Devil - did he have any career advice, and what was he listening to?
The whole Devil thing comes from the title track. Tenderhooks survived a tsunami, a natural disaster that destroyed a lot of lives.
Tenderhooks saw the Devil and survived. Now he's on a mission. Get the band together and play. Who knows what's going to happen next! All he heard was the sound of thunderous waves crashing on top of him.
5. How do you intend to approach live gigs, or is the Tenderhooks character purely a studio animal?
I really enjoy playing live so gigs are definitely on the cards. The bigger the audience the better. Tenderhooks will be part of the live experience. He's the man!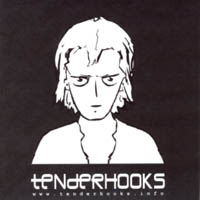 6. What has been the highlight(s) and lowpoint(s) of your career to date?
When I read the album review from Get Ready To Rocks's very own Pete Whalley I was flying. It really makes me believe that we can go on to bigger and better things. There are some great tracks lined up for the second album so if I can get some success from this one then the future looks good.
The worst thing that happened was playing a gig at The Halfmoon in Putney. I worked really hard on the promotion but ending up playing to 9 people. It was a Tuesday night! Even so I was gutted.
Also sending out 20 press packages with t-shirts, album, stickers, etc. to major rock mags, radio stations and newspapers. Then ringing round to find out if they had arrived. In most of the cases the intended recipients hadn't even seen them. Some wouldn't deal with an indie label. Lots of time and expense for nothing.
7. What would you like to achieve ideally by the end of 2006?
If we could sell 1-2000 albums that would guarantee the second album would be ready for Christmas. We'd be able to make our first pop promo and develop the world of Tenderhooks. I'd also get great musicians on board and develop a great live Tenderhooks show.
8. How important do you feel the internet is for promoting your music?
The internet is excellent. Only time will tell if my concept will be successful. It's exciting waking up in the morning and checking my emails to see if there's more good news.
Being able to sell our music through various outlets and our own site is a good thing. It means we can stay independent and have control of how we create our particular style of music. Getting on board with websites like yours makes me feel like I'm part of a big music family.
9. Where can people obtain your CDs, and what about gigs? Are you playing any, and where?
You are selling the album, also our own website and CDBaby.

You can digitally download tracks from iTunes, Karmadownload.com and other online shops
10. Message for your fans?
This is the start of a really exciting adventure both musically and visually. We want the fans to get on the mailing list. There'll be plenty of opportunity to make suggestions about future animations and pop promos.
We want people to enjoy the music, tell their friends and family and watch Tenderhooks develop into a global rock star. Please don't file share because small indie bands like ourselves need the bucks to carry on doing what we do. Cheers M