1. What are you currently up to?
Square One has been in the studio demoing up some new trax over the past few months. We were recently voted best unsigned band in Powerplay's 2002 AOR Underground column so we're really excited about people hearing our new stuff! We've got an albums worth of material ready to go and we're going to be shopping it to labels over the next few months. Checkout www.squareonemusic.com for downloadable samples of the band. We've also been asked to do some shows with our friends Taxiride in Australia so we're all looking forward to getting out there and playing live.
2. Who were your influences?
Living in Oz i have to say Rick Springfield influenced me quite a bit. I remember hearing the song Jesse's girl and singing it non-stop for days. We all love that powerpop sound. Big melodic choruses / big harmonies and rokken guitars! Other bands we like are Queen, Cheap Trick, Jellyfish, and Marvelous 3.
3. Brief history of the band plus the style of music you play.
We're yet to put out a full length album. We have an album ready to go but we're trying to secure a decent deal. We have had offers....I guess we're still waiting for a good bite.
Our style is uptempo powerpop. We all sing and we always get compliments on our vocals with many people giving us the nod to bands like Queen, Nelson, and Taxiride. However, we've got 3 guitarists in our band and we love to rock-out. As i said, we're into songs with melodies that stick in your head so big choruses are really important to us.
4. What has been the highlight(s) and lowpoint(s) of your career to date?
Having been voted Australia's best unsigned band by Philips was totally awesome and inspiring for us. Robbie Evans @ Powerplay Magazine in England also voted us best unsigned band of 2002. Stuff like this only makes us more determined to suceed and write good songs. Getting on big supports like playing with bands like Steve Vai, Jimmy Barnes, and Taxirde has also been really cool!
As for low points...probably not getting much support from Aussie record labels has been the most disappointing for us. It's a little frustrating that many of Australia's premier acts like Savage Garden and Taxiride have had to get signed in different countries (like the USA) before getting picked up in Oz.
5. If you could create a fantasy band - what would be the line-up and why?
VOCALS - Freddie Mercury - the best ever singer/ frontman in my opinion. GUITAR - Butch Walker - amazing singer/guitarist/songwriter. GUITAR - Neal Schon - a hell of a good guitar player. BASS - Geddy Lee. KEYBOARDS - Jonathon Kaine - one of my fave sonwriters. DRUMS - TOMMY LEE - for his awesome playing and showmanship.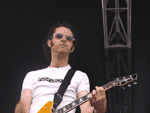 6. What state do you think rock music and live gigs are in at the moment?
I think a lot of people are starting to appreciate 'quality' singers and good 'songs' again. The grunge thing killed off the rock star but I believe the world is in need of it!! A Freddie Mercury/ David Lee Roth larger than life performer has been missing for far too long!
7. How did you first get into music?
My older brother influenced me heaps. Haning out in his bedroom as a kid allowed me to grow up on stuff like Queen thru to stuff as heavy as Judas Priest. Listening to stuff like this made me want to pick up a guitar and be just like them.
8. Any bands you would love to go out & tour with and why?
There would be so many. I guess playing with a band like Bon Jovi would be cool. We all grew up on Jovi and it would be awesome learn from these guys on a night to night basis. I think Jon Bon Jovi has the rock star thing down really well and he knows how to entertain an audience.
We're also big Def Leppard fans. Hysteria is probably my all time fave abum. Touring with these guys would be a blast! There attention to detail and killa melody lines are inspiring!
10. Message to your fans?
Play music you want to play! Check us out at www.squareonemusic.com
We havent got a full length album available but people can buy our 5 song demo for $12 US.
The address is : Square One @ P.O. Box 116 Epping,Melbourne, Victoria, Australia, 3076