SIMON JAMES WHITE (SJW Band)
The SJW Band have just released their debut album 'State Of Delirium' which includes the made for radio 'Anthems'. Classic rock with a modern rock feel and certainly worth a listen…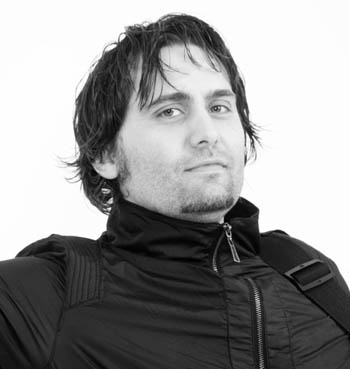 What are you currently up to?


Having just released my latest album 'A State of Delirium' I've been busy promoting it's release. The reaction to it so far has been great, really good in fact. There are no plans to tour this record at present but there may well be some one off shows happening in the New Year. Watch this space. I am also busy writing songs for the next album, I have a working title and lots of new ideas so the release of the 3rd SjW album is hopefully not too far away.


Brief history of the SJW Band...

I wrote my first album 'Talk on Corners' in 2006, after returning home from a long tour of the Middle East. I didn't have a band at the time so I got a couple of very close friends of mine to play on the album. Ben Mathews, on drums and Jamie Hunt, (Biomechanical) on guitar. The album 'Talk On Corners' was released under my full name Simon James White. I then gigged with a number of different musicians and tried a few different line ups from 2006 through 2008.


It didn't feel appropriate somehow using my full name for the new album, having said that it also seemed equally inappropriate to have a typical band name as this is not a band, in the traditional sense at least, so, I abbreviated the name down to just 'SjW' - like 'UFO', 'ELO', '10CC' or 'UB40' even.


The new album 'A State of Delirium' is technically the first 'SjW' album. It also features the very talented Mitch Gasser on guitar,who. has been ever present playing live for the last 2 years and I really enjoy playing with him. Mitch is a very soulful guitarist and he added something very special to this album.


Could you take us through the new album 'A State Of Delirium'


I wrote everything on the Guitar for both albums. The first thing tends to be an idea for a riff or chord sequence. I will then build the song from there. I'm an obsessive collector of ideas and I have a collection of thousands of audio files on my PC.
These can be great for referencing back, if I'm stuck for an idea I sometimes find an idea I recorded months previously that works. It's great when this happens, it's like finding a tenner!
Once I have a musical template in place I will add lyrics and melody. Very often this means arranging and rearranging the song to accommodate the words but I like that. I sometimes come out with a song that's very different structurally than I first imagined it would be.

All of my initial songs are written and recorded in demo form at home. I will program drums and lay everything on top then do a very rough mix as a guide for the other musicians. For the 'State of Delirium' sessions we sat down with the Producer, (George Shilling - My Bloody Valentine, Texas, Porcupine Tree), and used the demos to really go over the arrangements one last time before recording proper.


Lyrically 'A State Of Delirium' has a number of themes. The main one being madness, in one form or another.
The idea of delusion or delirium is a thread that really runs through the whole album. In '4am' you have a taxi driver that spends all his time behind the wheel but never really gets anywhere, literally driving him mad. 'I Want It' all is about the things we want or think we want.
'A State of Delirium' is entirely about delusion and delirium. '2ND Wave' explores the irrationality of blind faith and 'Suzi' is about an imaginary girl that only exists as part of an overactive imagination.
As a lyricist I would say that most of what I write is very abstract, I really believe that lyrics should allow as much room for interpretation by the listener as possible. It's far too easy to say 'I Love You', but where is the fun in that?

How do you go about promoting your music? Do sites like MySpace, Facebook etc. bring you in new fans and potentially sales? Or is it a case of having lots of 'friends' many of whom never bother with the music?

It depends on your outlook, if you view MySpace and Facebook, for example, as just one small way amongst many to promote your music then that's great.
In my experience that's all they are. If you are counting on them to make you a rock star or a millionaire then I think you're going to be very disappointed.
If you look at the actual time it takes you to get 10,000 friends on Myspace and then equate that to actual physical album sales for your hard work and efforts, the ratio would be scarily low.

The problems with most websites such as Facebook, are many and varied but I would say that the key factors are people's attitude towards music downloading.
Musicians are currently trying to sell music to a generation of people that don't know what it's like to pay for music.
Illegal downloading is theft and it's crippling the grass roots of music, for me personally even free downloads are not acceptable in any form. If you like something then pay for it.

There are also now well over 3 million band profiles on Myspace alone. All of these bands are fighting for the same space you are. So over saturation is a massive problem and it's not going to get any better.

I promote my music through established channels like CD Baby, iTunes, Amazon, Rhapsody and Napster. All in all you can find my music on about 50 sites on the web. So my music is available all over the world, we live in a truly global age.
It's really nice to think that people enjoy my music from The US, South Africa, South America I even got an email recently from someone in Lebanon. I also promote my album through word of mouth and at various pubs where I may be playing.

Who are your musical influences and what inspired you to become a musician?


Phil Lynott, the first rock record I bought was Lizzy 'live'. There was a time that you could wonder into your local 'Our Price', (in my case North End Rd, Fulham) and buy cassette albums for £3.49. I didn't have a clue who these bands where at the time, my Dad was a rock fan and these where nothing more then names that I had heard mentioned around about me.
The Lizzy album had Darren Wharton on keys. I later found out that this album was disliked by fans and was disowned by the band, but I loved it! And still do. Hearing 'I have got to give it up' or 'Angel of Death' still makes the hairs on the back of my head stand up.

From then on it was Queen, Genesis, The Who, Rush, Led Zep and The Police that caught my attention. Despite being a child of the 80's the whole 'Hair Rock' thing very much passed me by. I was much more interested in bands like 'Living Colour' and 'Kings X' and even though I had all but dismissed British Punk out of hand, American punk bands like 'The Bad Brains' really blew me away.

How do you view the current music scene? Have you seen an upswing in interest over the past couple of years in melodic/hard rock?


No, not especially. Rock is very regional in the UK. The best places tend to be the Midlands and upwards and the South West. That's always been the case and will remain so.
There are always going to be people that gravitate towards rock but sadly this country simply is not big enough to accommodate a big Rock market. There is too much competition.
There are real hotbeds for rock throughout Europe (Italy/Germany). I would say that the panacea for any act (Rock or otherwise), is still America, it will be China soon though.

I would definitely say that I have noticed a big movement towards very extreme music in the UK. Ultra heavy sounding Metal seems very fashionable and popular at present. Some of these bands are technically great, it's not for me though.

What have been the most memorable live shows for you and why?

Genesis, Twickenham 08. I really thought they had passed me by, but they toured one last time. They kicked of with 'Dukes' intro fantastic. I hope they do a pre Collins tour with Gabriel and Hackett. That's a show I'd love to see.
I saw 'Living Colour' at the Camden Jazz Café, a few weeks back. That was great because the venue was really small and intimate but, from an emotional point of view, Genesis wins hands down.

Any good rock 'n' roll tales to tell?

I once met a real hero of mine and to be perfectly honest it was a highly over rated experience. I realised early on that just because you're a great musician it doesn't make you a great person. I'm sure that's not always the case but some things are just best left.

I've had some happy coincidences, my first gig I ever saw was Gary Moore, after the war tour, '88 I think. He had Darren Wharton's band Dare supporting him. Many years later I met, played and became good friends with session Drummer Alan Cunningham, who was Darren's drummer on that tour.

Earlier this year I was playing covers at The White Hart pub in Barnes, with Mitch Gasser, during the course of the evening we played a number of Kinks classics. After we finished Mick Avory, (Kinks drummer,) introduced himself, he saw the funny side luckily and he didn't ask for any royalties. I bought him a beer!

What do you like doing with your spare time outside of music?

I try to get better at playing music, I'm a bit of a bore unfortunately. I walk my dog, often my inspiration to be honest and possibly, without sounding like a nutter, my musical muse.
I like some TV, Alan Partridge is a particular favourite. Between practising, writing, teaching & gigging there's sometimes not much time to do anything else. Strangely the one thing I don't do very much of these days is listen to music. Oh the irony!

Message for your fans?

Call me, let's do lunch. It would be great to meet you both!

If anyone would like any further info please drop us a line at Management@bassface.co.uk
---
Interview © 2008 Jason Ritchie.
All rights reserved.
---
| | |
| --- | --- |
| | Print this page in printer-friendly format |
| | Tell a friend about this page |