1. What are you currently up to?
We are planning for a release party of the album "11 of 10" in Sweden and will promote the band as hard as we're able to. Later in summer a new session begins with grreat material, we got a lot of good stuff on the demo tapes. No worries for the next one. But that's the future, now it's 100% "11 of 10" for a while.
2. Brief history of how you got into the music business and the style of music you play
I started off with the violin at the age of 4, trained to play by ear.There was alot of classical music in my home when I was a boy and I think it has alot incommon with rock music with all the energy, good melodies and harmonies. I have always wanted to be in the music buisness, well maybe not the circus music buisness but the MUSIC!
After graduating high school majoring music where I also met Anders, I got a job in a music store. Worked there for a year and bought guitars for my pay check....Then I was offered the job as "Paul McCartney" in the Beatles tributeband "Liverpool"
So my taste of music isn't just one genre, it's all from Bach to The Beatles and I think/hope you can hear it in the music too.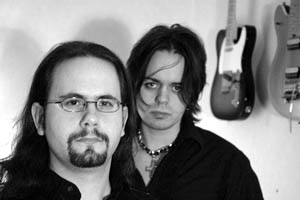 Shineth. Anders Berlin(left) and Sebastain Roos.
3. Could you take us through the songs on your excellent debut album and where the lyrical/musical ideas came from?
"Embrace You"- is actually two songs fixed together into one helluva...
I had the riff, verse and bridge but a crappy chorus. Then Anders played a song he had written and that chorus blowed me away. He also had thelyrics so it's a great mix of me and Anders in that song.
"Leaving Home"- the heviest riff on the album with a great contrast in the break with only vocals arranged by Anders. The lyrics is just about annoying people.
"Lonely"- Nice song, I hope it will get some air play.
It's about: you should treat people the way you self want to be treated.
"Should I"- It's about someone, no names though...
"Country Girl"- We know a guy who play the pedal steel guitar and were thinking of how we could get that instrument involved in our music. The lyrics is just a joke, but don't tell people that!:-)
"Joker"- Now it's getting serious, we got transverse flute, lapsteel guitars, cycle exerciser(!) and reversed shit on this track. A little bit of a soundtrack to a movie maybe, what do you think?
"Like a Human"- Uptempo with a cool chorus, one of the songs that got a guitarsolo!
"Requiem-Die Happy"- Requiem is instrumental written by Anders with mellotrone strings and lapsteel. We also use that as an intro to our shows, very spooky..
Die Happy is a very old song of mine...nice solos!
"The Crime"- Midtempo with some congas if you listen carefully. I like the song becasuse it's really honest and good vocal-arrangement.
"Waistd?" - Vocals!!!! Very AOR, hope you like. I do. We do!
"Blue Sky" - A very personal song, I wrote it when my best friend suddenly died. Terrible but "- life goes on".
4. How do you view the current live scene as regards new bands getting exposure?
In Sweden you have to work, work and work to get gigs and "they" don't want to pay you anything
But of course you can get the gigs if you really really want, and we do! Or we will!!
5. How has the Internet helped spread the word about the band? Do you think downloading is helping or killing music?
The internet is fantastic if you want to reach out of course. There's so many music sites out there it could be your fulltime job just email people (and it is).
I think downloading is good in a way. I mean, when you need a new pair of jeans you go to a store and try them on before paying and go home. It should work the same way with music, you try some then if it fits you, pay for it. You don't run away with your new pants straight from the dressingroom do you? If you do your stupid. Oh I'm so fucking rebbellious! Haha hmm maybe not on that one...
6. Who would you ideally like to go out and tour with?
Why not Aerosmith or maybe Bon Jovi or when you mentioned it Paul McCartney
I guess that won't work out so maybe Oasis or Mötley Crue. If you offer me someone I probably say -"yeah!"
7. What bands/artists do you admire and/or are an influence?
I admire Jimi Hendrix, John Lennon, Freddie Mercury, Lemmy...people like that
8. What have been the highlight(s) and lowpoint(s) of your career to date?
I guess my highlight is right now, I do music for a living right now and I couln't be happier.
My lowpoint must have been when I was kicked out from one of my first own bands 'cos I started listen to Yngwie Malmsteen haha but I'm allright now!
9. What ideally would you like to achieve ideally by this time next year?
Shineth has a world wide distribution - deal, that's a goal
10. What's the most rock 'n' roll moment you have had so far?
You know, I got a family at home now and I won't tell any "the dirt" stories right now...hehe. Chicken right?